Friday, January 17, 2014 2:41pm
I was at a Christmas Party about a month ago. At the time, save for maybe Duke's Jabari Parker, no ACC player was hotter than the NC State's star sophomore forward T.J. Warren.
One intrepid partygoer – a NC State grad, for the record – compared Warren's game to that of Paul George – the Indiana Pacers' star small forward. I found this comparison to be a stretch – athletically Warren isn't near George's level. (For whatever it's worth, I see him more as a Jamal Mashburn type) Regardless of whom you liken Warren, we can all agree on at least one thing: T.J. knows how to score the damn basketball.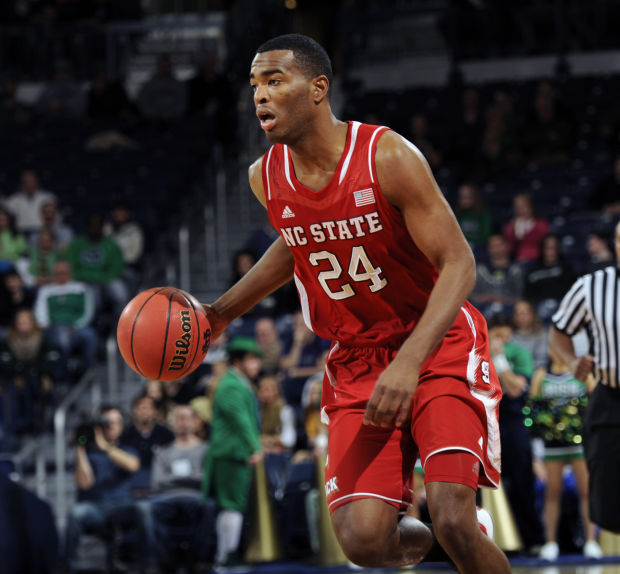 As a freshman, Warren was perhaps the most efficient scorer in the league. He led the conference in field goal percentage (62.2%, which, whoa) while connecting on over half of his shots from beyond the three-point arc (51.9%, on albeit a very small sample size – 27 attempts). His effective field percentage – or, eFG% – of 64.5% was the by far the best on the team (senior sharpshooter Scott Wood checked in at 61.6%), according to Hoop-Math.com. (Note: eFG% is a statistical metric that adjusts for the fact that a three-point field goal is worth more than a two-point field goal.)
Warren also posted a blistering true shooting percentage – which accounts for field goals, three-point field goals, and free throws – of 63.8%, per Hoop-Math. Most of this highly efficient damage was down at the rim, where 47.8% of his shots came from. On these shots at the rim, Warren was prolific – connecting on 75% of them.
For comparison, let's turn again to Hoop-Math. Duke's All-American big man Mason Plumlee – now with the Brooklyn Nets – shot 74.2% at the rim, which is where 62.1% of his shots came from, again, courtesy of Hoop-Math. Creighton's Doug McDermott – widely regarded as one of the top post players in the nation – attempted less than 40% of his shots (38.2%) at the rim, and he connected on 68.2% of these shots (lower than Warren's number). He posted an eFG% of 62.3%, which was over a full percentage point lower than Warren's.
Bottom line: as the Wolfpack's third or fourth option on offense last season, Warren was able to run free along the baseline – an area where he's deadly – get in the paint, and score, very efficiently.
It's been discussed ad nauseam, but Richard Howell (man, do I miss that guy), C.J. Leslie, Lorenzo Brown, Scott Wood, and Rodney Purvis are all gone. Warren, who averaged 27 minutes per game as a freshman, returned as really the only true rotation piece. You could factor in point guard Tyler Lewis, too, I suppose (12.4 minutes per game), but other than that, it's a totally new cast of players in Raleigh. From day one, it was clear - the offense would be T.J.'s. With this transition, though, has come some regression.
His eFG (52.7%), true shooting (55.8%), and shots at the rim (44.1%) have all dropped significantly during his sophomore campaign. They're not bad, mind you, but the drops display just how rigorous it can be to carry an offense in the ACC (Erick Green says, "Hello.") Warren has attempted far more threes this year, too; his total of 56 attempts (through 17 games) more than doubles his season total from a year ago.
Some of this can be attributed, as well, to the departure of Brown – now playing musical chairs between the NBDL and the Philadelphia 76ers. Brown – who was turnover prone – was an exceptional point guard, especially in transition. According to Hoop-Math, 61.1% of Warren's shots at the rim came off of an assist – as opposed to an offensive rebound or an isolation drive. Considering how much Brown pounded the rock last season, you'd have to think he played a major role in that development.
This year, that total – even with freshman point guard Anthony "Cat" Barber developing nicely – has dropped to 50.5%. Stuff is just harder this year, man. If you watch State play enough now, you'll notice that their crunch time offense really just boils down to: "Hey, T.J., go score, please."
Despite all of this, though, Warren has yet to disappoint; he's been a scoring machine. He leads the ACC in scoring at 22.2 points per game (Boston College's Canadian centerpiece Oliver Hanlan checks in at No. 2 with 19.1 ppg). He is, however, scoring the ball in different ways. His shot attempts have more than doubled (8.5 per game as a rookie; 17.5 per game as a sophomore), and with that, his efficiency has dropped. Don't get me wrong – Warren is still highly effective (50.5 FG%), but a higher volume of shots, coupled with defenses being able to focus far more attention on him in 2013-14 (Barber is second on the team in scoring at 11.5 ppg), has hurt his percentages.
He's led the team in scoring in all but two games, which – no surprise – were both losses: North Carolina Central (13 points, played only 28 minutes due to foul troubles) and Virginia (a total aberration, where he stunk up the joint, going 1-9 from the field with four points). The loss to the Cavaliers remains the only game in which he's scored in single digits. He's had three 30-point games this season, which raises his career total to four.
Halfway through the season, Warren has scored 377 points. The legendary David Thompson possesses NCSU's single season scoring record of 838 points. The Wolfpack have a minimum of 15 games remaining this season – factoring in one ACC Tournament game and no other postseason play. If Warren continues to sizzle at 22.2 ppg, that would extrapolate to 333 more points, which would give him a total of 710 for the season. This projected total would tie him with Vann Williford for fifth on State's all-time single season scoring list. (Also, David Thompson was really good at basketball, you guys.)
I know the math isn't the most precise here, but lets take this estimated total a little further: combine it with the 425 points he netted as a freshman, and you get 1,135 points in the span of only two seasons (ZOMG POINTS). It would also put him at No. 42 on the Pack's all-time scoring list, right behind Ben McCauley (1, 138). State, by the way, hasn't had a player average over 20 points per game since Todd Fuller back in 1996. This two-year total to start a career would also blow everyone not named Thompson, Burleson, Carr, Monroe and Hodge out of the water.
Look, Warren's not Paul George or David Thompson. And this year's Wolfpack, who sit at 11-6 and 1-3 in the ACC, have a steep uphill battle if they're to make the NCAA Tournament. But watching T.J. Warren play on offense remains one of the best shows the ACC has to offer. Tune in, folks, history is being made.