Thursday, September 26, 2013 10:15am
The ACC, we don't just give you any game on Thursday night football. We give you.....THE BATTLE OF THE TECHS! No, seriously, that's what it's called. At least, according to Wikipedia.
Even if that's not right, let's just pretend that it is. Perhaps one of the two schools should have to call themselves "A&M" instead of "Tech" for a year if they lose? We need a trophy for this game that's NOT otherwise known as the Coastal Division trophy! 
And as for fashion updates, it won't just be Hokie Stone helmets. No, to celebrate the 100th anniversary of The Historic Grant Field, Georgia Tech will wear these throwback jerseys(). Wait ... those are actually pretty cool. BUT CUE THE UNIFORM OUTRAGE! RAWR! THESE KIDS NOWADAYS DON'T UNDERSTAND THE IMPORTANCE OF A SIMPLE UNIFORM! 
But Georgia Tech will be holding a "Whiteout", encouraging the fans to wear all white. Do I understand yet why teams do this, as white is a veritable sign of surrender? The proverbial white flag? No, no I do not. But, hey. WHITEOUT VERSUS HOKIE STONE! THE BACKSPLASH BATTLE! Let's get it on. 
Also, inspired by the Hokie Stones, I decided to poll Twitter and ask for some other good ideas for something that should go inside or on a helmet. My choices were live goldfish, a flattened model ship and also fire. Yes, fire. Here were some of the best suggestions from the ACC Twitterati, which is the absolute best:
In honor of the Hokie stone helmets….what else do you want to see inside a helmet? I'd go with live goldfish, flattened model ship and fire.

— Lauren Brownlow (@lebrownlow) September 25, 2013
@lebrownlow snow globe. Game over.

— JP (@Joey_Powell) September 25, 2013
@lebrownlow Mood helmets. Like mood rings but, you know, helmets.

— Phony Bennett (@IfTonyTweeted) September 25, 2013
@lebrownlow Two words: Pope hats. Notre Dame might never lose again.

— Cory Smith (@RCorySmith) September 25, 2013
@lebrownlow Flower? http://t.co/7eAtCEbxAB

— Bobby Hundley (@bhundley) September 25, 2013
@lebrownlow helmet wigs

— furrer4heisman (@furrer4heisman) September 25, 2013
MAKE THIS HAPPEN, COLLEGE FOOTBALL! Plenty of good suggestions for individual teams as well, but these were some of the best.
VIRGINIA TECH (3-1, 0-0 ACC) AT GEORGIA TECH (3-0, 2-0)
Time: 7:30 p.m.
TV: ESPN
KEY FOR VIRGINIA TECH 
Some offense. Move. The. Football. Sustain. Some. Drives. Virginia Tech's offense has had 53 drives this season. Of those, 13 have scored points (11 touchdowns), and 20 have been three-and-outs. Thirty drives have gone for four or more plays. Those ended in as many touchdowns as punts (nine each), two field goals (out of seven!! attempts), and three arm punts - er, interceptions. Keep in mind, though, that half of those punts (13) were against Alabama (in 16 drives! 13 punts!). And the Hokies have had 11 three-and-outs in the last three games combined compared to nine against Alabama. But against Marshall, Virginia Tech turned 14 possessions - INCLUDING THREE IN OVERTIME AT THE MARSHALL'S 25-YARD LINE - into three touchdowns, three field-goal misses, five punts, two arm punts and a turnover on downs. 
In the Hokies' last two games against opponents with hardly stout defenses, they turned 26 possessions into five touchdowns, five field goal MISSES (um, paging Cody Journell or Beamerball or whatever), 10 punts and three interceptions. And nine three-and-outs. If there's an encouraging sign, though, it's that 13 of their 26 drives have gone for five plays or more, and they've turned those 5+-play drives into five touchdowns and three field-goal attempts (all missed). And the Hokies didn't self-sabotage with offensive penalties as they did at least twice in their first three games. 
To beat Georgia Tech, you not only have to move the football - you have to score points. So ... Virginia Tech offense ... your time is now, guys. 
KEY FOR GEORGIA TECH 
Consistency on defense. North Carolina was the first significant test the improved Georgia Tech defense has faced this year, and it ... passed? In the first half, the UNC offense moved the ball seemingly at will and took a 20-7 lead. In the second half, though, the Georgia Tech offense did what it needed to do, sacking Renner on UNC's first second-half drive and causing a holding penalty on the 82-yard touchdown the Tar Heels seemingly had before it was wiped off the board. And UNC was 0-of-4 on third down in the second half after going 4-of-6 in the first half, running a total of 18 second-half plays on four drives. That's partly because the Georgia Tech clock-sucking offense got rolling, but it's also because the Georgia Tech defense did its job and got the Tar Heels off the field. It's going to have to do that again. (Just as an FYI: Hokie QB Logan Thomas this year is 18-of-47 for 250 yards and three interceptions on third down.) 
HERE'S A GUY 
Logan Thomas. 
It's like a visual representation of the regression of Thomas' Virginia Tech career looking at his Georgia Tech game numbers. In 2011, he ran for 70 yards and two scores, also completing 7-of-13 passes for 209 yards and three touchdowns. In 2012, he had 40 yards (on 15 carries) and was 21-of-38 passing for two touchdowns. What to expect this year? Welp.
To put it in perspective, last year against Georgia Tech, the Hokies struggled offensively and still averaged 6.1 yards per pass attempt and 11 per completion. This year, Thomas and the passing offense have averaged 5.2 per attempt and 10.6 per completion. And they've eclipsed the 6.1 per attempt just once (against Western Carolina) and 11.0 per completion twice (once was against Alabama, on five completions, so that hardly counts). Last weekend, Georgia Tech made a good quarterback in UNC's Bryn Renner look pretty ordinary. Thomas is going to have to be more accurate and make good decisions against a defense that can and will make him pay for mistakes. 
THIS GUY 
Louis Young. The Georgia Tech senior cornerback was suspended for last year's game in Blacksburg - whether that would have made a huge difference, who knows? He did also miss the Middle Tennessee State game, by the way. Just saying.  Against North Carolina last week, Young had three tackles, an interception and two pass breakups. That's a fifth of Bryn Renner's 15 incompletions defensed or intercepted by Young. Prettay, prettay good. He leads the Yellow Jackets with three pass breakups, and he has nine tackles. He could cause problems for the Hokies and Logan Thomas as they try to get their passing game going. The Georgia Tech pass rush is going to need to do its job, but as long as the improved Yellow Jacket secondary can hold up in coverage, they should be able to contain Virginia Tech.
STATS ARE FOR LOSERS 
Georgia Tech has won six consecutive regular-season ACC games dating back to last season and is 8-3 overall in its last 11 games. ... The winner of this game has won the Coastal Division all but one time, with the lone exception coming last year, when Virginia Tech beat Georgia Tech in overtime. And even then, Georgia Tech still played in the ACC title game. So we're looking at the Coastal champ, folks! ... Georgia Tech is 1-4 under Paul Johnson against the Hokies (dating back to 2008), and every year, the winner of the time of possession battle won the game. It's kind of an arbitrary stat, but whatever. 
NARRATIVES
Virginia Tech Win: Uh oh ... don't look now ... Frank Beamer back? Virginia Tech is about to sneak up and win this Coastal now, isn't it? Remember what happened after the Hokies lost to James Madison at home? This is like that, except they almost lost to Marshall but didn't. Also ... NO ONE CAN BREAK THE UNBREAKABLE HOKIE STONE HELMETS! Well, they could if they used a sledgehammer. BUT SLEDGEHAMMERS ARE ILLEGAL! 
Virginia Tech Loss: At least the Hokie Stone helmets distracted the national audience from how bad the Hokie offense is?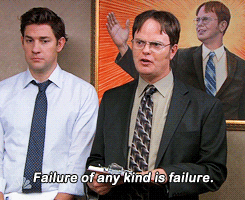 Georgia Tech Win: ACC COASTAL FAVORITES! THAT TRICKY OFFENSE STRIKES AGAIN! There's a new king in town, and his name is Paul Johnson!
Georgia Tech Loss: 
PREDICTION 
Georgia Tech, 27-23. Virginia Tech's offense is actually playing a little better, believe it or not. And the Hokie defense is excellent. Georgia Tech is going to win, but this game is always closer than it has any business being.
Week 4: 8-2 (2-1 ACC)
Overall: 35-6 (4-2 ACC)