Friday, September 20, 2013 11:34am
Lauren Brownlow breaks down the ACC action coming up this weekend.
Clemson wins a big Thursday night game at N.C. State, meaning of course that the ACC survives without crumbling into ashes around us had the other result happened. So, good news!
But there's still plenty of fire-setting that could be done this weekend. And by fire-setting, I mean setting the ACC's reputation on fire. Just, putting a match to it and watching it burn. Which is always fun, the suspense of it all. Will a team take an embarrassing loss this weekend? Will Miami cover a 60-something point spread at home against Savannah State? TUNE IN TO FIND OUT. The ACC: Where Anything Happens. 
UNC (1-1, 0-0 ACC) AT GEORGIA TECH (2-0, 1-0)
Time: 12:00 p.m.
TV: ESPN/WatchESPN 
KEY FOR NORTH CAROLINA 
Score. Score. Score. And score some more. UNC head coach Larry Fedora somewhat rightly pointed out this week that last year's loss to Georgia Tech, a 68-50 affront to defense, was at least in part because the UNC offense and special teams didn't get it done. But those mistakes account for about 24 points. So there's still the matter of the other 44.
Either way, is UNC going to allow 68 points again? (Afraid to answer own rhetorical question) Probably not. But the only way the Tar Heels stay in the game is if they can score and take advantage of opportunities, too. The scary thing about last year's game was that both teams left points on the field. You can't stay in a game with Georgia Tech if you can't score. It's just that simple.
KEY FOR GEORGIA TECH 
Getting UNC off the field, and quickly. The Yellow Jackets already have a huge advantage in that their offense is going to give UNC's defense problems. It's just a fact. And they're going to score points. Also a fact.
And so what remains unknown is how well Georgia Tech's defense will perform. It's been great so far. But as UNC tight end Eric Ebron said to Inside Carolina's Dijana Kunovac earlier this week, to paraphrase, "Yeah, well they've played Elon and Duke." He doesn't hold back, that one. True enough. But Georgia Tech has still allowed 14 points all season in two games and just 507 total yards of offense. Some teams have allowed more than that in one game. The Tar Heels have struggled some on offense, at least more than we might have thought going into this season, but one of their opponents was South Carolina. The Tar Heels should be able to move the ball, but this game should give us a better idea of where each team is. 
HERE'S A GUY 
Bryn Renner. (Gruden voice) Here's a guy, a quarterback, that's capable of making some pretty big plays, now. He's got a big arm. He's a gunslinger. He's like the next Brett Favre. But this year, his head coach wants him to be more of a game manager, and he's embraced that role like a real team leader! He's got just one interception this year. He's still got 533 yards passing and two touchdowns through two games, and he can make ALL THE THROWS, now. Don't let him fool you. But he might want to air it out a little bit more in Atlanta this weekend, because we all knwo he can. He's got ALL THE THROWS, Jaws! All of em! Ya know?
THIS GUY
Vad Lee. (Gruden voice) This guy, Vad Lee, see, here's a guy that's trying to play quarterback in a run-first offense. But he can actually throw the ball! THAT'S what makes him so dangerous! And he's just a special player, and a special kid, ya know? He's got all these touchdowns - six passing touchdowns in two games in that offense is like 25 in a normal one, you know what I'm sayin? And he can run the ball, too! He's Georgia Tech's LEADING RUSHER - as the QUARTERBACK - with 62.5 yards per game and two touchdowns. Do you know he's scored EIGHT touchdowns this year overall? That's incredible! That guy is really something else.
STATS ARE FOR LOSERS 
A win would give UNC just its second win in an ACC opener in the last 11 years. Yeah. Before 2011, UNC had lost NINE STRAIGHT ACC openers. ... A win would be UNC's first in Atlanta since 1997. Carolina finished 11-1 that year. ... The Tar Heels have lost seven in a row in Atlanta and four straight overall. ... Georgia Tech leads the series 27-18-3. ... Georgia Tech is 26-15 against Coastal Division opponents since Division play started in 2005, and 15-11 under Paul Johnson. 
#NARRATIVES 
North Carolina Win: The Coastal is UNC's for the taking now! THE CURSE OF ATLANTA HAS BEEN BROKEN! Who else could the Tar Heels lose to now?! (Excepting, of course, Miami at home on a Thursday night or at Virginia Tech.)
North Carolina Loss: The defense stinks, this team was overrated to begin with and the Tar Heels are done as a Coastal contender. 
Georgia Tech Win: COASTAL DIVISION FRONT-RUNNERS! Finally they have a quarterback who can complete forward passes and a defense that can get stops and how will anyone beat this team?!?! ESPECIALLY WITHOUT A MAGICAL EXTRA WEEK TO PREPARE?! WHAT DO WE DO WITHOUT THAT NARRATIVE?????
Georgia Tech Loss: A WEEK OFF TO PREPARE A WEEK OFF TO PREPARE A WEEK OFF TO PREPARE A WEEK OFF TO PREPARE (Takes breath) CUT BLOCK KARMA CUT BLOCK KARMA GIMMICK OFFENSE GIMMICK OFFENSE GIMMICK OFFENSE ... am I doing this right? Did I leave anything out?
PREDICTION 
Georgia Tech, 34-21. The Tar Heels' frustrations in Atlanta live on as they won't be able to stop this Georgia Tech offense enough to ... okay, at all. But to be fair to UNC's defense, not a lot of teams will this season. The Georgia Tech defense, though, has gotten a lot better this year and should be able to contain the UNC offense enough, especially at home.
MARSHALL (2-1) AT VIRGINIA TECH (2-1)
Time: 12:00 p.m.
TV: ESPNU/WatchESPN
KEY FOR MARSHALL
Score enough to make the Hokies sweat. It's not going to be easy against this Virginia Tech defense, especially in Blacksburg. But Marshall already has two 50-point games this season and even managed 31 in last week's loss to Ohio. Marshall outrushes most of its opponents and averages 5.0 yards per carry and 214.7 yards per game, but the Thundering Herd is also averaging 312.7 yards passing. This offense is legit, and explosive. But Virginia Tech will certainly be the best defense Marshall sees all season. Still, all it takes is a play or two and a pressing Virginia Tech offense to start to make things interesting.
KEY FOR VIRGINIA TECH
Score. Move the ball. Score. Seriously. It's not going to be easy this week against a Marshall defense that has allowed just 48 points through three games and just 201 yards on the ground, but opponents have passed on Marshall - 557 of the 758 yards Marshall has allowed this year have come through the air. But can Virginia Tech take advantage? Logan Thomas has now completed 47% of his passes, and his accuracy has increased every week. But he still makes some head-scratching throws from time to time, and the Hokies averaged just six yards per pass attempt against a suspect ECU secondary. It's time to start being more dangerous in the passing game.
HERE'S A GUY
Tommy Shuler. The Marshall wide receiver has nearly the double the number of catches as his next-closest teammate (23 to 12 by Demetrius Evans), and he has 247 yards receiving for two touchdowns. He's clearly quarterback Rakeem Cato's go-to guy. Which makes sense, since they were high school teammates. He's 12th on the all-time Marshall receiving lists with 147 career catches and 22nd all-time in yardage (1,502).
THIS GUY
James Gayle. Virginia Tech's senior defensive end - and reigning ACC D-Lineman of the Week - is fun to watch, isn't he? He was a beast last Saturday at East Carolina, and quite frankly was probably the reason the Hokies escaped Greenville with a win. He had two sacks and a forced fumble, but it was the only forced fumble by the Hokies this season. And Gayle is a game-changer, for lack of a better word, with 3.5 tackles for loss this season. He's just seemingly always in the opponent's backfield, and he's going to need to be against a team that can move the ball.
STATS ARE FOR LOSERS
Virginia Tech is 69-12 in the month of September since 1993, and 30-7 over the past eight seasons. ... Virginia Tech is one of two ACC schools this weekend going for program win No. 700, which only 14 other FBS programs have ever done. ... Virginia Tech leads the all-time series with Marshall 9-2. ... All that talk about up-tempo offenses the last few years, it was actually Marshall that led the nation in total plays from scrimmage per game (90.6), not to mention the number of plays that went for ten or more yards (20.3 per game). This year, Marshall has 65 plays of ten or more yards, which leads the nation, and is third in plays run (247).
#NARRATIVES
Virginia Tech Win: 
Virginia Tech Loss: 
PREDICTION
Virginia Tech, 44-27. Marshall can score a little bit, and it should get some points, even against this defense. But not enough.
 
WAKE FOREST (1-2, 0-1 ACC) AT ARMY (1-2)
Time: 12:00 p.m.
TV: CBSSN
KEY FOR ARMY
Shut down Wake's running game. Hey, why not? Everybody else is doing it! (See below.) But here's the thing - Army hasn't shut down anyone's running game this season, really. Even Morgan State managed to get 185 yards, and opponents are averaging nearly five yards a carry. In the last two games, Ball State and Stanford have combined for 560 yards rushing on 98 attempts (5.7 per carry). Stanford is Stanford, obviously. But Wake Forest is going to come in determined to get its running game going, and Army can't let that happen.
KEY FOR WAKE FOREST
The Wake Forest offensive line. That line has been a veritable sieve for most of this season so far, as the Deacs can get almost nothing going on the ground against teams not named Presbyterian. In fact, taking out that game, Wake has 70 rushing yards on 54 attempts in the other two games. Tanner Price has had to attempt 78 passes for 501 yards - that's 6.4 per attempt. Yikes. But hey, someone has to generate offense. And the ground game certainly isn't getting it done. It seems like Wake Forest is getting virtually no push at the line of scrimmage. But if it's going to start any week, it has to start this week against an Army defense that has struggled against - well, against everything, but definitely against the run.
HERE'S A GUY
Larry Dixon. One of Army's many running backs, he leads the team with 242 rushing yards (including no negative rushing attempts), averaging 7.8 yards per carry and adding three touchdowns. He only had six carries against Stanford as quarterback Angel Santiago did most of the work there with 17 rushes, but in Army's first two games, he had 220 yards and two scores. And he has a long run of 71 yards. If the Wake Forest defense has some of the same tackling issues that have plagued it this year, the Deacs will be in trouble.
THIS GUY
Michael Campanaro. He had yet another 16-catch game last weekend against Louisiana-Monroe, but dropped what would have been the game-tying two-point conversion. Still, he's the only ACC ever with two 16-catch games, and thank goodness Wake has him. Especially this week, because Army isn't great against the pass. He'll have his opportunities, and both he and Wake Forest have to make sure to take advantage of them. Especially if, yet again, Wake Forest can't get the running game going.
STATS ARE FOR LOSERS
Wake Forest leads the series with Army 8-4 and hasn't lost to the Black Knights since 1989. ... Army had its biggest crowd since 2004 on hand to see the Stanford game (39,644), which was also its first sellout of the season. ... Louisiana-Monroe converted 15-of-28 third-down attempts last week against Wake, and the 28 third downs were the most ever by a Wake Forest opponent. ... Wake Forest had 25 takeaways all of last season, and the Deacs already have nine this year. (Side note: Can you imagine how bad things would be at Wake right now WITHOUT having forced nine turnovers?)
#NARRATIVES
Wake Forest Win: JIM GROBE IS BACK! Anytime Wake Forest's proverbial back is against the wall, they ... walk away from that wall! And really, the ACC needs the Deacs on that wall. But only when ACC play starts, guys. Then, stay on the wall. Until then, win games. Thanks!
 Wake Forest Loss: 
PREDICTION
Army, 23-20. I'm sorry, Jim Grobe and company. Fool me once, shame on you. Fool me twice, shame on me. Fool me three times ... well, yeah. So there.
PITTSBURGH (1-1, 0-1 ACC) AT DUKE (2-1, 0-1)
Time: 12:30 p.m.
TV: ACC Network
KEY FOR PITTSBURGH
Hey, um, defense? Are you there? Just saying. This was supposed to be Pitt's strength. I know a lot of New Mexico's production came in garbage time, or at least some of it. And I know that Florida State was your first opponent, so, you know, understandable. But New Mexico still ended up with 213 yards rushing and was able to make it a game by the end. Duke's offense has been sputtering a bit without Anthony Boone under center, but that's not to say Duke can't match up with Pitt. So that defense is going to have to be better.
KEY FOR DUKE
Getting the passing game going again. We miss that. I know David Cutcliffe does. He and the Duke players were careful to blame the offense as a whole for the struggles rather than backup Brandon Connette. Wide receiver Jamison Crowder said that his position group needs to be a lot better, for one. But Connette just looks a little bit slow to react, and a tad hesitant, out there. He's not used to taking on the mental load of every game rep, certainly, and he's only bound to get better. But with the meat of Duke's schedule coming, it had better be fast. And the same goes for the rest of the Duke offense.
HERE'S A GUY
Devin Street. The 6-4 senior wide receiver needs just 20 catches to pass Larry Fitzgerald as the all-time leading receiver (in receptions, anyway) in Pitt history. Yeah. And already this year he has 11 catches for 221 yards through two games, averaging 20.1 yards per catch and 110.5 yards per game. He and Duke cornerback Ross Cockrell are going to have one of the more interesting ACC matchups you'll see this season, and it could decide the game.
THIS GUY
Ross Cockrell. Duke's senior cornerback is probably going to be on Street most of the afternoon, and it will be a fascinating matchup to watch. Early in last week's game, Vad Lee threw at Cockrell a few times early. Cockrell broke up a pass and intercepted another. And then Lee stopped throwing at him. Which makes sense. But it's hard to envision a scenario where Tom Savage stops throwing to Street.
STATS ARE FOR LOSERS
Duke has faced nine Heisman winners (during the Heisman-winning season) on opposing teams, and one was Pitt's Tony Dorsett (in 1976). He had 129 yards on 31 carries as No. 2 Pittsburgh beat Duke in Durham, 44-31. ... Pitt leads the all-time series, but just barely, 9-8. ... Guess who was the opponent when Wallace Wade Stadium opened in 1929? Pitt! Things are really coming full-circle here! Kind of. As Cutcliffe pointed out, though, the stock market crashed shortly thereafter. Not sure what that means.
#NARRATIVES
Pittsburgh Win: This is hard to nail down, honestly. The assumption is that a program like Pitt, with the success it's had before disaster struck the last few years, SHOULD win a game like this. But that hasn't been the trend the last few years. I'm honestly stumped here.
Oh, wait...
Three of its next four games look very winnable (Virginia and Old Dominion at home, at Virginia Tech and at Navy). COASTAL DIVISION DARK HORSE, ANYONE?!?!
Pittsburgh Loss: See above. I do think that the perception of both programs is such that Pitt is not expected to lose this game, in theory. So it will probably be used as proof of how far this program has fallen.
Duke Win: ALL DAVID CUTCLIFFE AND COMPANY DO IS BEAT AVERAGE TO INFERIOR OPPONENTS IN WALLACE WADE! NOT A SINGLE ACC OPPONENT WITH A MEH BODY OF WORK CAN EXPECT TO COME OUT OF DURHAM WITH A WIN!
Duke Loss: Remember that time we all thought Duke might make it to back-to-back bowl games for the first time in program history? Well, now the quarterback is out indefinitely, half the team has the flu and OUR PETS' HEADS ARE FALLING OFF!
PREDICTION
Duke, 27-24. Maybe I'm a David Cutcliffe homer. There are worse things to be. But Pitt hasn't been all that impressive to me, and Duke will figure things out a bit offensively. The game is at home, too, and the defense should have an easier time containing Tom Savage than it did Vad Lee.
TULANE (2-1) AT SYRACUSE (1-2)
Time: 12:30 p.m.
TV: RSN
KEY FOR TULANE
YOLO. No, seriously. Just, all the YOLO. Go all-out for turnovers (Tulane does have seven interceptions in three games) and big plays. Why not, right? What does Tulane have to lose? The Green Wave has wins over Jackson State and Louisiana Tech this year, but a loss to South Alabama. With the only high-profile games remaining a trip to Louisiana-Monroe and a home game against ECU, why not take every chance possible to knock off a BCS-conference team?
KEY FOR SYRACUSE
Don't get cute. Yeah, the Orange beat up on Wagner. But it's Wagner. If Syracuse messes around too much with Tulane, it will get beaten. The defense needs to be disciplined, and the offense needs to be balanced and avoid turnovers. Getting all derpy at home is a good way to lose to a pretty good team in Tulane. And with all the confidence Syracuse built with a convincing win last week, it could all come crumbling down with a loss here.
HERE'S A GUY
Nick Montana. You might have heard of his dad. His name was Joe. But he's pretty good, too. At least he's played well this year, completing 55-of-97 passes for 706 yards, seven touchdowns and two picks. Tulane has the ability to be explosive offensively, and Montana - who started his college career at Washington, went to a junior college and is now back at the D-I level - is a big reason why.
THIS GUY
Terrel Hunt. It's his show now, and the sophomore quarterback proved he can handle it. Against Wagner, he completed 15-of-18 passes for 265 yards and three touchdowns. Yes, it's Wagner. But the Syracuse offense had been stagnant, even against Wagner, before he got in the game. And also, all season. On the year, he's 17-of-22 for 287 yards, three touchdowns and no interceptions. Oh, and he's carried it six times for 52 yards and a score. That'll do nicely.
STATS ARE FOR LOSERS
With a win over Tulane, Syracuse will have 700 wins as a football program, just the 15th FBS program to reach that milestone. ... The first Syracuse win was by a 14-0 score over the Syracuse Athletic Association in 1890. ... Syracuse is 7-1 against Tulane all-time with the last Tulane win coming in 1990 (at Syracuse!). ... Hunt's pass efficiency rating against Wagner? A tidy 262.0, the third-highest by an FBS quarterback this year.
#NARRATIVES
Syracuse Win: Wow, Syracuse! Great job! Two straight wins! Now maybe you can get something rolling--oh, wait, is that Clemson next on your schedule, followed by trips to N.C. State and Georgia Tech? Welp.
Syracuse Loss: 
PREDICTION
Syracuse, 45-13. Tulane beatthe Fighting Skip Holtzs (e.g. Louisiana Tech) last weekend, but the Green Wave won't have enough power to wash away Syracuse. (I'm so sorry.)
WEST VIRGINIA (2-1) AT MARYLAND (3-0)
Time: 3:30 p.m.
TV: ESPNU/WatchESPN
KEY FOR WEST VIRGINIA
Attack Maryland's depleted secondary. Well, depleted is relative, of course. But the loss of cornerback Dexter McDougle really hurts, and while the West Virginia passing attack struggled in the first two weeks, it found new life under Ford Childress last week. West Virginia has five players averaging 30 or more yards per game receiving and 11 that have caught at least one pass.
KEY FOR MARYLAND
Run the ball, and keep the ball. Be the ball. (Not really.) But Maryland needs to grind out long possessions against West Virginia and establish the run as well. West Virginia's opponents have 121 rushing attempts for 554 yards, and Oklahoma (the only team to beat the Mountaineers) has 57 of those attempts and 316 of those yards. Notice a pattern here? Just saying. Maryland has rushed for at least 224 yards in every game this year, and it's a big reason the Terps have had so much success offensively.
HERE'S A GUY
C.J. Brown. Attacking a young West Virginia secondary effectively and avoiding turnovers will be important for Maryland. He already has 833 passing yards this year, and he needs ten more to surpass his total in 2011 (in ten games). He has six touchdowns to one interception, and he's completing 67.1% of his passes. He's been great. He's going to have to keep that up and make the Maryland offense dangerous, particularly if the defense has to adjust a bit after the loss of McDougle.
And WVU has to make sure this doesn't happen.
THIS GUY
Ford Childress. The redshirt freshman quarterback got his first career start against Georgia State last weekend, and he was pretty good: 25-of-41 for 359 yards, three touchdowns and one interception. But that was Georgia State. Still, West Virginia has plenty of weapons all over the field for him to throw to, and the confidence he gained in that game should be big for the Mountaineers.
STATS ARE FOR LOSERS
This isn't one of the first rivalries that comes to mind when you think of college football's great ones, but it is. This will be the 50th meeting between the two schools. And boy, their blood boils with hatred for each other. Just look at this video. ... In Dana Holgerson's 29 games at West Virginia, the Mountaineers have put up 400 yards or more of offense 21 times. ... Maryland is averaging just 2.33 penalties a game so far this year, which is tied for fifth nationally. ... Maryland is one of just three teams in the country to have 500 yards of offense or more in three games (of teams that have played three games). And it's the first Maryland team to have 500 yards of offense in three straight games since 1983.
#NARRATIVES
Maryland Win: GOACCGOACCGOACCGOACC! Yes, we're still claiming them until they leave! Also, TAKE THAT, DUDE OF WEST VIRGINIA!
Maryland Loss: The Dude of West Virginia will immediately start a rumor that Maryland's acceptance into the B1G is not real, and the Terps are being recruited heavily by the AAC. Also, this:
PREDICTION
Maryland, 38-27. Ordinarily, I would have picked West Virginia. Because Maryland is still technically in the ACC, and West Virginia is usually ... well, West Virginia. Both of those things are technically true, but not really. West Virginia barely beat William and Mary this year, while Maryland is practically already in the B1G.
VMI (1-2) AT VIRGINIA (2-1)
Time: 3:30 p.m.
TV: ESPN3
KEY FOR VMI
Um, get a lot of big plays? That would be my guess. But if the Keydets are able to score early and keep it close, perhaps doubt will creep in? Honestly ... I don't have much else. Except there is the good sign for VMI that through three games, quarterback Eric Kordenbrock has 818 yards, six touchdowns and three interceptions, including back-to-back 300-yard games, something a VMI quarterback had done only one time before. So, there's that.
KEY FOR VIRGINIA
Don't derp it up, guys. More than likely, VMI's not going to be able to hang with the Cavaliers, even if they are mistake-prone. But this is the last game (and really, the only game) Virginia will have all year to iron out wrinkles, with the possible exception of Ball State (who is generally a frisky opponent) at home in Week 6. But if Virginia messes around and makes this a game for longer than it should be, not only will the Cavaliers not be able to build confidence going forward, but they'll also be forced to leave starters in and not let young guys get reps while UVa's ACC opener at Pitt looms next week. Not. Good.
HERE'S A GUY
David Watford. VMI's pass defense has ... struggled so far this season. The Keydets' three opponents have combined for nearly 1,000 passing yards, eight touchdowns and just two interceptions through three games. And so what better time for Watford to gain some confidence as UVa's starter? He's 47-of-73 for 275 yards with one touchdown and four interceptions through two games. He's faced two of the better defenses in the country in BYU and Oregon, but it's time for him to put up some numbers. And if not now, when? That is the question. Or it will become the question if he struggles again.
THIS GUY
Derrick Ziglar. VMI's do-everything running back is the leading scorer on the team (with two touchdowns), the leading rusher (191 yards in three games) and the leading receiver (13 catches for 164 yards and a score). He had 187 all-purpose yards against Glenville State, which was somehow the most by a VMI player since September 2011. Clearly, Ziglar is the kind of playmaker VMI hasn't had in years. In this day and age of explosive offenses around the country, that seems hard to believe. But here we are. And Ziglar is someone the UVa defense might need to keep an eye on. Just saying.
STATS ARE FOR LOSERS
I could drop a lot of stats in this section, like how this is the 83rd meeting between the schools but just the second since 1991, etc. etc. But here's the thing: VMI's mascot is a kangaroo named Moe. There's no longer a live version, but there used to be, and that's awesome. In 1954, Virginia Tech kidnapped Moe before a football game. So VMI students retaliated by kidnapping a Virginia Tech student. This is why you don't mess with military guys.
In spite of my editor's resistance to sharing this story, current VMI head coach Sparky Woods used to coach at South Carolina. That's right. He was hired away from Appalachian State on the strength of two Division I-AA playoff appearances (with one semifinal). At South Carolina. And his arrival was so wildly anticipated, that someone wrote a song about it. Sadly, the audio of said song can't be found even after some Internet sleuthing on my part. But it exists, and we're all better for knowing that.
NARRATIVES
Virginia Win: Yawn. But if you guys thought I could get through these previews without using all the hilarious kangaroo images I could find, then you don't know me at all.
Virginia Loss: Yeah, ACC stinks, Virginia stinks, blah blah blah. But also:
Or perhaps more important, Virginia didn't respect the kangaroo. It's actually a powerful animal.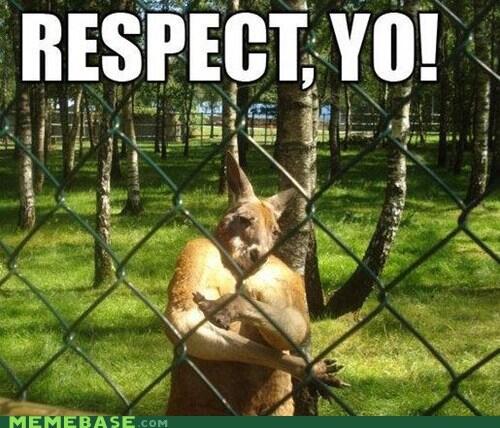 PREDICTION
Virginia, 48-12. Just a random guess. VMI is pretty bad. But regardless of score, Cavaliers win comfortably.
BETHUNE-COOKMAN (3-0) AT FLORIDA STATE (2-0, 1-0 ACC)
Time: 6:00 p.m.
TV: ESPN3
KEY FOR BETHUNE-COOKMAN
The Wildcats getting something going on offense against the stingy Seminoles. Until the win over FIU, Bethune-Cookman was rotating three different quarterbacks. Three. On purpose. And together, they've combined for 51 pass attempts in three games with four touchdown passes and three interceptions. But this is largely because their ground game is pretty solid, averaging 251.3 yards per game the last two seasons. This year, it's 251.7 (compared to 106 passing yards). The Wildcats are going to have to find a way to move the ball against Florida State. (Groundbreaking, I know.)
And also? The band. This. Is. So. Awesome.
KEY FOR FLORIDA STATE
Get off to a faster start. Bethune-Cookman's defense could end up being better than Nevada's, all things considered. But it wasn't really Nevada's defense that was tripping up the Seminoles, or the offense for that matter. It just took Florida State some time to get going. Once the Seminoles did, though, it was on - but they trailed 7-3 in the second quarter. It might sound strange, but Bethune-Cookman might be more likely to make things difficult on the Seminoles in that scenario.
As an aside, can we all just agree that something like this should never happen again? (But this should happen again. Over, and over and over again.)
HERE'S A GUY
Karlos Williams. Jimbo Fisher decided to convert the safety to running back, and boy did he look smart when Williams' first touch went for a 65-yard touchdown last weekend against Nevada. It's not like Florida State was suffering from a lack of talent in the backfield anyway, and this just gives them one more weapon. He finished with 110 yards on eight carries in his first game at  running back, and he's sure to see some time there again this Saturday. If he can develop to be the weapon that both Devonta Freeman and James Wilder already are, it'll be unfair.
THIS GUY
Nesly Marcellon. The senior linebacker is one of the best players on a pretty good Bethune-Cookman defense. Through three games, he has 15 tackles (second on the team) and a team-high 4.5 tackles for loss and two sacks to go with a quarterback hurry. The Wildcats have a lot of talent and tend to do things by committee on both sides of the ball, but Marcellon's stats stand out. And also, this is his fifth year in school. Never hurts.
STATS ARE FOR LOSERS
Bethune-Cookman has a pretty good history in the Doak, all things considered - in two previous games there, the Wildcats lost by a combined margin of just 31-14. Of course, those two games were in 1975 and 1977. And they were playing Florida A&M, not Florida State.  ... There are 24 transfers from FBS schools on Bethune-Cookman's roster, including three from Miami. ... Jimbo Fisher's current winning percentage (33-10 record, or .767) is currently the highest in ACC history. ... According to FSU's game notes, FSU is the only school with two starting quarterbacks in the NFL. I guess FSU's media relations people also think that Russell Wilson went to Wisconsin.
NARRATIVES
Florida State Win: 
Florida State Loss: Um....do we even need to cover this? I think my only response would just be catatonic shock, confusion and a dreamlike daze, which can only lead to this:
PREDICTION
Florida State, 57-7. Again, this is a name-a-score type of game for the Seminoles, but one might think they'll rest some of their regulars late in this one. Sure, Bethune-Cookman beat FIU. But a lot of teams are going to this year, I'm afraid. 
SAVANNAH STATE (1-2) AT MIAMI (2-0)
Time: 7:00 p.m.
TV: ESPN3
KEY FOR SAVANNAH STATE
Make sure Miami's check doesn't bounce? I've ... I've got nothing. Seriously. Savannah State lost its first two games this year by a combined score of 143-12. Well, they must have been playing guarantee games against some big-time BCS opponents, right? Um, not exactly. Georgia Southern beat Savannah State 77-9, and Troy won 66-3. Welp. But you know what? If the Tigers bring their band, everybody wins.
KEY FOR MIAMI
The team bus not breaking down on the way over. Again, not to be mean-spirited here, but....yeah. Savannah State has two wins in the last two seasons, and one is to someone named Edward Waters College. (It's the oldest HBCU in Florida,but it only has 800 students.) Plus, Miami had a week off to prepare, which AS WE ALL KNOW MEANS EVERYTHING! But seriously. We're done here.
HERE'S A GUY
Stacy Coley. He didn't have an ideal start to his college career. Well, that's putting it mildly. He dropped two touchdown passes against FAU and didn't play the next week against Florida. But the talented true freshman is sure to get a lot more playing time on Saturday, and he'll have a chance to prove to both the coaches and himself that he can do it, and he still ended the game with two catches for 19 yards and a punt return for seven yards. Confidence is a fickle thing, and if he can't regain it against Savannah State, it's hard to see when he will.
THIS GUY
Le'Reginald Veals. The sophomore running back has had some tough sledding this season, tying for a team-high with 16 rushing attempts, but just two yards to show for it. Wake Forest thinks that's not very efficient. But Le'Reginald has perhaps the best name in college football, or at least in the top five. And also, my word processing software underlined "Lereginald" as incorrect, but not "Le'Reginald", which is fantastic. This isn't without merit, though - Veals is explosive on returns, and had a 92-yard kickoff return for a score last weekend in Savannah State's win over Fort Valley State. So, watch out, Miami.
STATS ARE FOR LOSERS
With Miami entering the top 25 after its win over Florida, this will be head coach Al Golden's first-ever game coaching a top-25 team. ... Speaking of said top-25 appearance, it was Miami's first appearance in the poll since November 14, 2010. This is also Miami's highest ranking since it was 14th on October 3, 2010. Which was the week preceding a 45-17 beatdown at the hands of Florida State ... Savannah State has played two games, and Miami has played three. But Savannah State has allowed ALMOST 1,000 MORE YARDS ALREADY (1,607 to Miami's 663).
NARRATIVES
Miami Win: Uh....congratulations?
Miami Loss:

PREDICTION
Miami, 77-0. I mean, why not, right?
Week 3: 7-1 (1-0 ACC)
Overall: 27-4 (2-1 ACC)