Tuesday, February 4, 2014 10:31am
MARYLAND (13-9, 5-4 ACC) AT NORTH CAROLINA (14-7, 4-4 ACC)
Time: 8:00 p.m.
TV: ACC Network/TheACC.com/ESPN3
THE SKINNY
Neither of these teams can get to the line or keep opponents off of it. Both rely pretty heavily on getting offensive rebounds. Neither team shoots well (or, at least, reliably) and both can get a tad derpy on offense. AN ACC BATTLE FOR THE AGES! There's one big difference, though: while Maryland has shown the ability to be a bit streaky offensively. North Carolina has…not. But it's the Tar Heel defense that's been much better than Maryland's - or, at least somewhat. Maryland hit 18-of-41 threes in its first two ACC games (43.9%), then 29-of-108 (26.8%) in its next five before hitting 18-of-36 (50%) in the last two. So, there's that. If Maryland gets hot, it can make threes. If not, it will still jack up a lot of ill-advised threes. And the Maryland defense has allowed five opponents to shoot 50% or better from two-point range, including two of the last three. UNC thrives on the two-point bucket, and if Maryland can't defend the rim, it will be a long night for the Terps. And it might be anyway. Carolina's going to need to finish better at the rim than it did against N.C. State, though - just 43.9% from two. Either that, or rebound nearly 50% of its misses like it did against N.C. State. Or both. 
NAMES TO KNOW
Dez Wells. It would seem that Wells' games against teams from his home state either go really well or really terribly. Against North Carolina - albeit in a small sample size - I'd say they've gone pretty well. He averaged 19.5 points on 14-of-23 shooting against UNC last year, and even though Maryland lost both games, it certainly wasn't Wells' fault. (Of course, you could have said that about a lot of Maryland's losses last year, so there's that.) Wells has been excellent this year, too - drawing fouls, not committing a lot of them, getting to the line and generally getting what he wants around the basket and on drives. In the last two games, he's averaged 20 points on 13-of-16 shooting (13-of-14 from the line). I'm no statistician, but I'd say that's pretty darned efficient. And his ORtg's in those games (174 against Miami with no missed shots, 163 against Virginia Tech) were his two best this season; the 163 is the best of his career. He's always at his best in the biggest moments, and this certainly qualifies. 
Brice Johnson. Remember him? Well, if you forgot, it's easy to see why - he had gone six straight games without reaching double figures, and three straight without cracking the 20-minute mark in playing time. But against N.C. State's smaller lineup particularly, the lithe Johnson flourished with 10 points on 3-of-7 shooting (4-of-4 from the line, his most free-throw attempts since November 23). He still didn't play 20 minutes, but he was closer (19) and his 144 ORtg was by far his highest in ACC play (and highest since a 157 against UNC-Wilmington). Williams is going to need more from Johnson on both ends of the floor, but he's shown a real knack for scoring around the basket, which is certainly something UNC needs. But in two games against Maryland last year, he averaged 3.0 points on 2-of-9 shooting in 7.5 minutes. Woof. If UNC can get more from him, whether it's as a bench spark or as a more steady contributor, now would be a good time.
STATS ARE FOR LOSERS
No need to get too reactionary to Carolina's recent run, but it shouldn't be dismissed, either - the Tar Heels were 45th in Ken Pomeroy's rankings after the loss at Virginia (which, remember, are efficiency rather than results-based), went up to 37 after the Clemson win, 33 after Georgia Tech and just up one to 32nd after a messy win over N.C. State. The highest UNC has been this year is 7th after its Michigan State win on December 4. … Interestingly enough, since Maryland took a tumble to 72nd after a loss to Boston and a win over Tulsa, the Terps have hovered in the 61-74 range, dropping three spots after beating Miami to 74th (their lowest ranking of the year) and then going back up to 64th - a 10-spot jump - after a 20-point win at Virginia Tech. Which is certainly…interesting. … Last year in two losses to UNC, Maryland allowed two of its six highest offensive efficiency ratings.
NARRATIVES

Maryland Win: 
Maryland Loss: After the "A-C-C!" chant rings in their ears for the 1,000th time: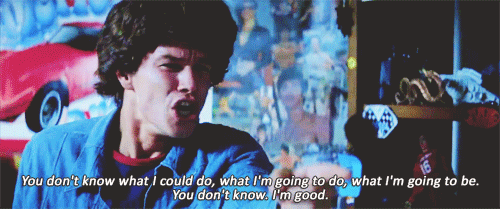 North Carolina Win: 
North Carolina Loss: 
PREDICTION
North Carolina, 71-63. THE UNC REDEMPTION TOUR CONTINUES!
GEORGIA TECH (12-10, 3-6 ACC) AT CLEMSON (14-6, 5-3 ACC)
Time: 8:00 p.m.
TV: ACC Network/ESPN3
THE SKINNY
Well, this game certainly puts the 'T' in Tuesday! And by 'T' I mean 'Terrible'! I don't really know what to add here. Clemson's defense is good and its offense stinks. Georgia Tech isn't really very good at either, but just got a really nice win at Wake Forest. CAN THEY BUILD ON THAT?!?!?! Clemson's going to need to avoid turnovers and bad shots, which are often the same two things for them, and make sure they just get in the way enough of Georgia Tech's offense. And Georgia Tech might want to keep doing that thing the Yellow Jackets did at Wake, where they didn't jack up a ton of threes and they got to the foul line a lot. Easier said than done, though, that.
NAMES TO KNOW
Robert Carter, Jr. That's right, folks! He's back! At least, according to Brian Gregory. And not a moment too soon, as Gregory recently dismissed Solomon Poole from the team and Jason Morris had foot surgery. Those are guards, but still. Any depth the Yellow Jackets can get should help. I mean, Georgia Tech had to play at least one walk-on regular game minutes at Wake Forest. (And still won, by the way. Embarrassing, Jeff Bzdelik.) But the sophomore forward has missed all of ACC play to date, and he was playing pretty well leading into league play. How much will he actually help? Who knows? But he's a scholarship player returning to the lineup who can score points. That is good enough for me. 
Jaron Blossomgame. Is Blossomgame back?!?! Well, Clemson's redshirt freshman did have his first game scoring double figures since his supposed breakout performance against Duke (14 points, 14 rebounds). In a rather hideous Clemson win at FSU (just the way they like it), Blossomgame was the only Clemson player not named K.J. McDaniels in double figures with 10 points on 4-of-7 shooting. He'd played a total of 30 minutes in the previous two games combined, and he saw 28 against FSU. Someone - no seriously, anyone - has to become a more consistent scoring threat besides McDaniels. Maybe Blossomgame is finally ready to….
STATS ARE FOR LOSERS
Since we've delved into some rises and falls in Ken Pom's rankings….o, Clemson. The Tigers started the season 96th, got as high as 27th (twice, the last time on December 3), then fell to 48 after a loss to Florida State on January 9, then got as high as 32 after winning three straight before falling to 50 pre-FSU Part II. Now, here they sit at 46. … Georgia Tech, meanwhile, started the season 3-0 and ascended to 46 in Ken Pom. After a loss to Dayton, they plummeted to 72 and have basically been falling ever since. They were down to their lowest ranking of the year after the loss to UNC (139) before winning at Wake. That 139 is Georgia Tech's worst ranking since March 2012. … Daniel Miller Watch: Georgia Tech's talented seven-footer who NEVER GETS THE BALL is now…wait, nope. He is still attempting 17.7% of the team's shots when he's on the floor, LOWER THAN ANYONE ON THE TEAM EXCEPT COREY HEYWARD, YET HE HAS THE HIGHEST ORTG AND I CAN'T. … Just a cursory glance around the league here, but I am pretty confident that Clemson's Sidy Djitte is leading the league in fouls called her 40 minutes - 7.4. 
NARRATIVES

Georgia Tech Win: MOAR HAPPY SHUMP! MOAR!
Georgia Tech Loss: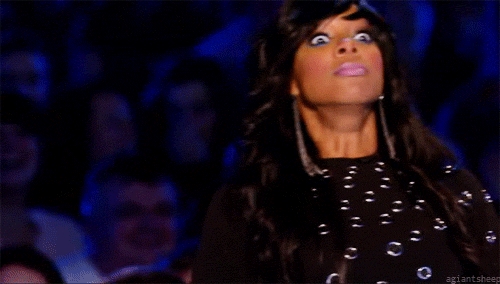 Clemson Win: Two in a row?!?!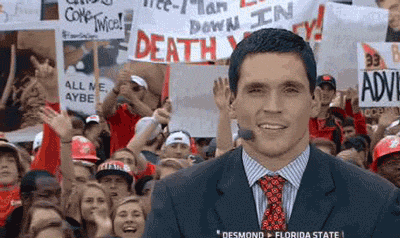 Clemson Loss: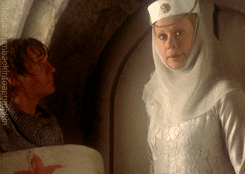 PREDICTION
Clemson, 63-55. At least we will have achieved the elusive #QuestFor50. I think.
WAKE FOREST (14-8, 4-5 ACC) AT NO. 11 DUKE (17-5, 6-3 ACC)
Time: 9:00 p.m.
TV: ESPNU/WatchESPN
THE SKINNY
Duke Team Mad. Duke At Home. Opponent Not Very Good On Road. Duke Team Beats Opponent By 1,000 Points. It's science. There's really not much to add here, right? Wake just lost a game it couldn't lose, at home, to a Georgia Tech team down to eight scholarship players. Duke just lost a close game at Syracuse and is one of the best offensive teams in the league, playing at home against a team that's been awful on the road - dreadful, even. Is there really much analysis to add here? Because I say that there isn't. Only thing I can think of is Wake still relies pretty heavily on getting to the foul line, and Duke's league-only FT Rate defense is 12th in the conference. Duke obviously got into some foul trouble at Syracuse, and the Blue Devils need to learn to avoid that a bit better. 
NAMES TO KNOW
Devin Thomas. So, um, the last two games have been pretty rough for Wake's 6-9 sophomore. He's averaged 9.5 points, so it's not that, and he's 6-of-14 shooting - also not bad. But he has seven assists to 11 turnovers and seven fouls, so…yeah. And 11 turnovers is probably a few too many. He was much more efficient than this earlier in the year and might be hitting a bit of a wall, but clearly Wake's not going to win a lot of ACC games where he averages 5.5 turnovers. Last year at Duke, Thomas was just a freshman and didn't have a great game (0-of-4 shooting, one assist, six turnovers, four fouls), but he did have 12 rebounds. And that is certainly something the Deacs could use right now. But not the turnovers or the fouls. Just leave those in the Dash, Devin.
Quinn Cook/Rasheed Sulaimon - aka, The PG Situation. This year has been so crazy. Not long ago, we were wondering if Rasheed Sulaimon would ever play again. (Not really, but you know what I'm saying. He wasn't playing well enough to warrant any minutes, after all.) And now, we've got Sulaimon running point instead of junior PG Quinn Cook late in games. Cook has hit double figures once in the last seven games, and while he's avoiding turnovers for the most part, some of his bad shots - and he's not shooting well - are the same difference. So, what will Krzyzewski do? Just have Sulaimon run point for a lot more game time, and give Cook spot duty? Or does Cook get another chance? Cook is one of Duke's most emotional players, and he could sure use a bounce-back game. 
STATS ARE FOR LOSERS
Duke is now No. 1 in the country in offensive efficiency, averaging a 127.9. Wake Forest has had a higher offensive efficiency than that AVERAGE for Duke in just one game this year (a 130.5 at Virginia Tech a few weeks ago). … Again with the Ken Pom rankings trend, but Wake had THE most precipitous fall last week - from 77 after beating Notre Dame, to 79 after losing to Syracuse….and now to 102 after the loss to Georgia Tech. The highest the Deacs had been ranked all season was 73rd on November 30, but this is their lowest Ken Pom ranking since…well, since last year (134). Wake spent all of last season in the 100's, and this is the first time they hit the 100's this year. … Duke's been as low as 28 in Ken Pom this year, which is its lowest ranking since Ken Pom started tracking week-to-week in 2011. …. Remember that thing I said about Sidy Djitte? Scratch that. Josh Hairston is averaging EIGHT fouls per 40 minutes. (!!!!)
NARRATIVES

Wake Forest Win: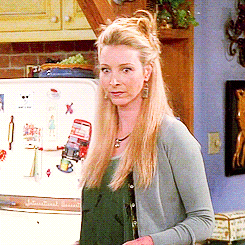 Wake Forest Loss: Oh, another road loss. NBD.
Duke Win: 
Duke Loss: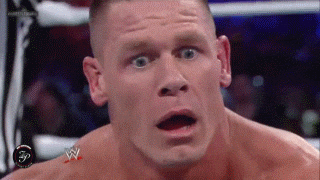 PREDICTION
Duke, 98-56. Does that seem a little extreme? A few too many points? Too much of a beatdown? Heh. Just you wait. 
Overall: 56-21 (47-17 ACC)
Last week: 11-4 (10-4 ACC)