Monday, February 17, 2014 9:51am
NORTH CAROLINA (17-7, 7-4 ACC) AT FLORIDA STATE (15-10, 6-7 ACC)
Time: 7:00 p.m.
TV: ESPN/WatchESPN
THE SKINNY
For the most part, it has seemed like FSU vs. UNC has come down to the Seminoles making a lot of shots AND not turning it over constantly, only to see UNC get hot as well AND get nearly half of its missed shots. And so yes, Florida State is going to have to do two things in this game:
1. Not turn it over as much as it usually does,
and
2. GET SOME DEFENSIVE REBOUNDS! Florida State has been much better on the defensive glass in recent games; since allowing Duke to get over 61% of its misses (still insane), only one FSU opponent has been over 33.3% on the offensive boards (Virginia Tech at over 37%).
Because that's what UNC has thrived on during this six-game winning streak - the Tar Heels have had an eFG% over 50% just twice in the last six games, but they have collected over 40% of their misses shots four times and 31.4% or more in every game. It also wouldn't hurt FSU to get UNC in some foul trouble. The Seminoles are sixth in free-throw rate in ACC games, while UNC is 12th in defensive free-throw rate. 
NAMES TO KNOW
James Michael McAdoo. The junior wasn't always very efficient last season, but he seemed to find a way to be against Florida State, posting an ORtg of 117 or better in all three meetings (his season average was 91.3). But forget last year. The McAdoo we've seen most of this season, to be frank, doesn't look very much like that McAdoo. Just about the only bad thing you can say about him lately is that he's not hitting his free throws consistently. Good news for him, though - if the pattern holds, he'll hit them tonight! He was 2-of-7 against Maryland, 6-of-6 at Notre Dame, 2-of-7 against Pitt….you see where I'm going here.
Anyway, he's averaging 21 points and 10 rebounds in UNC's let two games on 17-of-31 shooting. And during the six-game win streak, he's getting to the foul line 8.8 times a game. No longer content to take jumpers, he's attacking the basket more to draw fouls. And his energy level has ratcheted up to 11, which is contagious, seemingly. He's going to have to keep that up tonight. 
Okaro White. In three games against North Carolina last year, players hit double figures six times: Michael Snaer twice, Terry Whisnant once, Terry Shannon once and Devon Bookert once. The only current player on the roster besides Bookert to do it is White, and that was in Florida State's five-point home loss to the Tar Heels. But that's not why I picked #OkaroDontReach. (PS - he didn't reach in that game last year, which is WHY HE ENDED UP IN DOUBLE FIGURES! STOP FOULING, OKARO!) He's too dynamic of a player and too good a defender for FSU to lose him to foul trouble. In ACC wins, he's averaging 1.8 fouls. (Also, that 1.8 foul average INCLUDES his FIVE FOULS in Saturday's win at Wake!) In losses? It's 4.0. His six points against Wake were his fewest since January 9, but his 22 minutes were his fewest of the season. He got help from his teammates, as he's going to have to if FSU is going to win games like this one, but it was Wake Forest.
There's a reason he's fouled out - or nearly fouled out - of FSU's losses this year. It will be interesting to watch he and James Michael McAdoo go at it, since McAdoo is generally being guarded by four-men who are not quick enough to stay with him. White certainly is that. And he'll be a mismatch for McAdoo on the other end, too. 
STATS ARE FOR LOSERS
The lowest free-throw rate (we'll throw out Notre Dame's 18.2) was Maryland's 35.7. UNC only allowed a mark that high five times last year, six times in 2012, twice in 2011 and seven times in 2010. That's 20 times in the last four seasons. And it's happened already 16 times this year alone.  … Florida State has been at or above a 35.7 free-throw rate in 17 of 25 games this year. … It would appear that Ken Pomeroy became a believer in the Seminoles (or his numbers did, but let's not ruin the narrative) once they knocked off Clemson on January 9. They rose to 23 after that and got as high as 15 before losing at Virginia, only to fall to 38 after a February 10 loss to Miami. But the win over Wake got them back up to 36, and it's still a higher ranking than FSU enjoyed at any point last season. …
Florida State and North Carolina played three times last season. North Carolina won all three, and posted three of the six highest offensive efficiency ratings against FSU last year in those three games, never with an eFG% less than 55 percent. This year, UNC has had an eFG% over 55% just four times all season, twice in ACC play. One of those was against Boston College so it should barely count, although two of the other three were against Clemson and Louisville. 
NARRATIVES
North Carolina Win: Oh, so I guess y'all are going to find a way to dismiss this one too, right? We still haven't beaten anyone, right? Fine. Seven-game winning streaks are so common in the ACC nowadays, I guess. We'll just keep beating the teams you put in front of us. JUST EXCUSE US FOR LIVING OKAY?!?!?!?!
North Carolina Loss: 
Florida State Win: 

Florida State Loss: Hey, remember when we were 12-4 and had no bad losses? That was like a month ago, right? It feels like only yesterday. Listen, NCAA Tournament committee, we've got you on March 9 when Syracuse comes to town. That's our big win, okay? We're good to go, right? RIGHT?!?!?!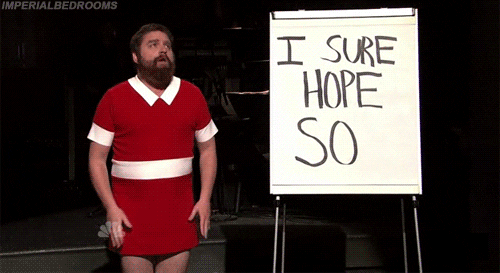 PREDICTION
North Carolina, 72-66. This will be a close one, and it wouldn't shock me if Florida State found a way to win. They need it, after all. But my gut has not been steering me wrong lately (check my winning percentage last week, yo!). 
Last week: 12-1 (12-1 ACC)
Overall: 80-23 (71-19 ACC)