Thursday, February 20, 2014 3:46pm
Mark Owens provides his version of power rankings for the ACC's freshmen.
We're officially heading down the stretch of conference play, and players are jockeying for position up and down the freshman rankings. As always, feel free to leave thoughts/comments below. 
No. 1 - Jabari Parker. At first, I hesitated moving Parker back up to the top spot, thinking that some may view this as simply a reaction to Syracuse finally falling off the horse last night (and against Boston College, of all teams). Or as a simple hat-tip to the Sports Illustrated Cover.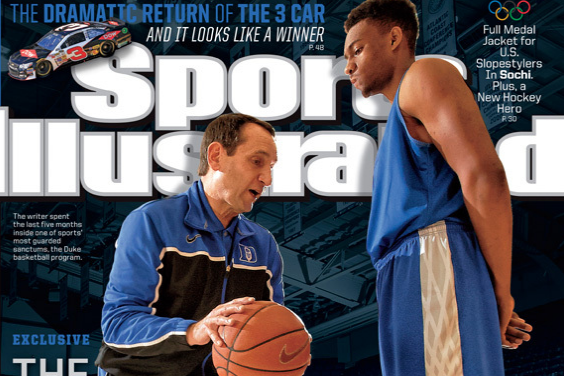 Well, it isn't. Duke's main man hasn't just been playing well of late; he's been downright dominant. In his two most recent games, he's combined to go for 39 points (on 12-of-28 shooting), 22 rebounds, 5 blocks, 2 steals … and a partridge in a pear tree. Not coincidentally, his Blue Devils are also rolling of late, toughing out a 69-67 win against Maryland, and then going down to the ATL to dish out some punishment to the Yellow Jackets. This ranking business is as fluid situation as ever, but for the time being, Parker's just playing to well to keep out of the No.1 position.
Last Week: 2
No. 2 - Tyler Ennis. The guy who's held the top spot for the past two weeks play hasn't dropped of precipitously, but he wasn't sterling either, combining to shoot just 9-of-24 (.375) from the field, and 1-of-5 from behind the arc (.200). Still, his ability to distribute belies his age, and he's still getting teammates good looks in key situations (12 assists to 6 TOs in the last 2 games). However, he's the floor general on a team that, even when it's been winning of late, has had a bit of a wobbly wheel in the process. And last night, against the unlikeliest of opponents, that wheel finally came off. That's not all on Ennis, to be certain. But he bears a portion of the load. 
Last Week: 1
 No. 3 - Kennedy Meeks. Meeks was a virtual lock to move down in this thing after putting up an extremely pedestrian 2 points in 11 minutes against Pitt. And then the Heels traveled to Seminole Country...and this happened.
Against FSU in Tallahassee, UNC came back from a big deficit and then held off the Seminoles. And simply put, that result does not happen without Meek's enormous game. 23 points in 24 minutes is, I'd say, efficient. Even more efficient? Going 11-of-12 from the field. Free throws continue to be an adventure (even in his Shaq, v2.0 game he went 1-of-3 from the line which, actually, makes it even more Shaq-tastic). Great to see from Meeks, who is a real ascending talent in this league.
Last Week: 4
No. 4 - Ben Emelogu – They finally beat someone! They finally beat someone! Oh…wait. It was Miami. Again. Coach Tilde cannot be happy with this, and we know our own Lauren Brownlow is not. Still, Emelogu was a catalyst in the win, going for 9 points on 6 shots, handing out a couple of assists and grabbing a few boards. Love the kid's potential. Just not his squad's.
Last Week: 3
No. 5- Devin Wilson – They finally beat someo … oh, right. Already said that. Well anyway, Wilson was a big part in the victory over Team Tilde, going for a team-high 12 points. And 12 points against The U is almost like scoring metric-weighted points. They should count for about 28% more than normal points, as the pace in Miami games runs like Louie Anderson nailed with a rhino tranq. He followed up the Miami performance with another solid outing, going for 13 (on 5-7 shooting), while also distributing 5 assists against Virginia.
Last Week: 6
No. 6 - Anthony "Cat" Barber. Think the proverbial Freshman Wall is mythical? I present as Exhibit C one Mr. Barber. While he's seen more and more of his minutes go to Tyler Lewis, Cat has struggled, particularly with shot selection and, not unrelatedly, those shots going into the basket and out through the bottom of the net. The assists are dipping a bit, too, and the turnovers are rising … which is also not a great trend. Still, he's a very talented young player, and they sometimes go through rough patches along the way. Heck, nearly all of them do.
But there for awhile earlier in the season, it looked like it might actually be the year of Cat. Uh, oh. Now I've done it.
Last Week: 5
No. 7 - Michael Young. A solid if a tad underwhelming week for Young. In the 35-foot heartbreaker game against then-undefeated Syracuse, he was a virtual no-show (4 points, 2 boards), but redeemed himself well in the tight loss in Chapel Hill, going for 8 and 6, respectively. 
Last Week: 7
No. 8 - London Perrantes. Good players find ways to contribute to their teams, even when parts of their game aren't completely "on". And that's precisely what Perrantes did in his two games this week. In the win at Clemson, he didn't tally a single point (only shooting twice), but dropped 6 dimes (versus ZERO turnovers). The next game, at the  in-state rival Hokies, he opened up from the outside, hitting 3 of 6 shots from behind the arc and contributed 11 points. The assists dipped to three, but he still had no turnovers. The guy just keeps improving, and promises to be a player upon whom Tony Bennett can count for years to come.
Last Week: 8
No. 9 - Kyle Washington – My appreciation for Washington's play continues to rise, and even though his Pack lost a gut-wrencher to Syracuse and then got hammered at Clemson, he's still impressing me. In the 'Cuse game, he really showed up, playing 33 minutes and scoring a career-high 14 points on only 11 shots. He lso grabbed 10 boards to complete the double-double. I love his potential & future … and his present isn't bad, either.
Last Week: 10
No. 10 - Demetrius Jackson. After sitting out two games with some academics to clear up, he came back this week … and with a vengeance, even in a losing effort. His 17 points (on 7-13 shooting, including 3-5 from deep) were great signs, but perhaps even more impressive were his 5 assists (1 turnover) versus Miami. His play had really lagged of late, so it's encouraging to see him pick it up so dramatically after hopefully getting some things situated in the classroom.
Last Week: 9
HONORABLE MENTIONS
Roddy Peters. Another week, and an even bigger gulf to span for Peters to move into my top 3 Roddys of all time (although just now, our own David Glenn walked into my office and asked, "what about Brind'Amour?" So now I'm more confused than ever). Anyway, as we've discussed, playing single-digit minutes in games isn't going to get him past Piper, let alone into the rarified air of McDowall. Sigh.
Beejay Anya – Up and down week for Anya again. Collected 4 rebounds in only 9 minutes in the much-discussed loss to Syracuse, but then came back for an 18-minute, 8 point performance against Clemson, albeit in a losing effort.  
Jamel Artis – More up and down (sensing a pattern with these freshmen yet?), though signs from Artis were even more encouraging than from Anya. He really got to the FT line (where he's a .755 shooter on the season) against UNC, finishing with 13 points and 7 boards. Collected another 5 boards against Syracuse, but only attempted 2 FTs and 2 FGs.  
Jaron Blossomgame – Solid week for Blossomgame, particularly in the Tigers' home win against the Wolfpack, when he went for 7 points and 6 boards.
Nate Britt – Decent but not great for Britt, as he really struggled against Pitt (1-9 from the field), but bounced back nicely with a 6 point/4 rebound outing in the Heels' roll-continuing win against Pitt.
Lennard Freeman – He … uhhhm … huh. Not a great week for the DC native, as he went O'fer from the field, scoring 1 point total to go with three boards in 24 combined minutes … both losses.
Quinton Stephens – Relegated to nearly only scrub minutes of late, Stephens has essentially been a non-factor the past three and a half weeks. His last outing of note came back on Jan. 26, the overtime loss to N.C. State. Since then, his high-water mark for minutes played is 16. And during that span, he's averaging 2.33 PPG and 0.33 RPG.
| | | | | | | | | | | |
| --- | --- | --- | --- | --- | --- | --- | --- | --- | --- | --- |
| Player | School | PPG | RPG | APG | TO | SPG | BLK | FG % | FT % | MPG |
| Jabari Parker | Duke | 19.2 | 8.7 | 1.2 | 2.2 | 1 | 1.3 | 47.8 | 73.9 | 30.2 |
| Tyler Ennis | Syracuse | 11.8 | 3.3 | 5.7 | 1.6 | 2 | 0.2 | 42.2 | 74.6 | 34.8 |
| Ben Emelogu | VT | 10.8 | 3.1 | 2 | 1.6 | 0.7 | 0.3 | 39.4 | 68.1 | 27.2 |
| Cat Barber | NCSU | 9.7 | 2.3 | 3.8 | 2 | 0.6 | 0 | 38.2 | 69.8 | 27 |
| Devin Wilson | VT | 9.2 | 3.4 | 4.6 | 2.8 | 0.8 | 0.2 | 42.4 | 65.3 | 34.1 |
| Manu Lecomte | Miami | 7.8 | 2 | 2.4 | 1.8 | 0.6 | 0 | 41.3 | 77.8 | 27.2 |
| Kennedy Meeks | UNC | 7.8 | 6.2 | 0.9 | 1.1 | 0.3 | 0.9 | 56.5 | 56.5 | 16.3 |
| Demetrius Jackson | Notre Dame | 6.5 | 2.4 | 1.9 | 1.2 | 0.4 | 0 | 43 | 78.2 | 23.5 |
| Roddy Peters | Maryland | 4.4 | 1.3 | 2.4 | 2 | 0.6 | 0.1 | 43 | 65.8 | 15.7 |
| Mike Young | Pitt | 5.8 | 4.7 | 1 | 1 | 0.3 | 0.4 | 41.7 | 82 | 21.9 |
| Jamel Artis | Pitt | 5 | 3.4 | 0.6 | 0.8 | 0.1 | 0.2 | 48.3 | 75.5 | 15.6 |
| Jaron Blossomgame | Clemson | 4.5 | 4.7 | 0.4 | 0.7 | 0.3 | 0.4 | 37 | 54.8 | 20.9 |
| London Perrantes | UVA | 4.4 | 2.1 | 3.7 | 1 | 1.1 | 0.1 | 31.5 | 81.6 | 28.7 |
| Lennard Freeman | NCSU | 3.8 | 5.6 | 0.6 | 0.6 | 0.4 | 0.3 | 51.4 | 40 | 23.2 |
| Beejay Anya | NCSU | 2.2 | 2.1 | 0.2 | 0.6 | 0.1 | 1.4 | 55.9 | 54.2 | 11 |
| Isaiah Hicks | UNC | 1.4 | 1.2 | 0.2 | 0.5 | 0.1 | 0.5 | 40.6 | 60 | 7.7 |