Friday, October 18, 2013 9:44am
 As ACC fans, we can only be thankful disaster didn't occur and the second-best team in the Coastal Division didn't lose to the team many thought would be the second-best team in the Coastal Division before the season started, but actually is probably the worst. (And yes, I realize Miami is ranked higher than Virginia Tech ... but I like the Hokies right now.) Or second-worst, behind Virginia. Even though Virginia has two wins and UNC has one. #goaccstal
But as ACC fans, we can also be very happy that the best of the best of #ACCDerp was on display for a primetime audience, yes? Zero Dark Thursday, indeed. Or, as Joe Ovies put it ever-so-snarkily, Zero Dark Sadness.  
Anywho, listen. I know you guys are eager to see two teams that have waited centuries to play each other in a game like this ... SYRACUSE AND GEORGIA TECH! We should call that hard-nosed versus dirty blocks, amrite? NARRATIVE NARRATIVE NARRATIVE
No, I know what you guys want.
The ACC's first top-five matchup since 2005 will be the last game I preview .... because THAT'S what we call in our business a TEASE. And that matchup is, in case you've been living under a rock ... No. 5 Florida State and the Fightin' JameisNoles at No. 3 ClemSammy and the TajhTigers. 
Let's. Get. It. On.
SYRACUSE (3-3, 1-1 ACC) AT GEORGIA TECH (3-3, 2-2) 
Time: 12:30 p.m.
TV: ACC Network
KEY FOR SYRACUSE
Run that football! And, probably? Don't throw it. That's going to be easier said than done. Georgia Tech's run defense is actually pretty good, allowing just over 120 yards per game. BYU ran for just 189 yards (4.5 per carry) on Georgia Tech, and the Cougars ran for 1,500 yards against Texas earlier this year! (Approximately.) In the last two games, though, Syracuse has really gotten its act together running the football, running for 695 yards on 88 carries (7.9 per rush). In the first four games this season, Syracuse ran for 629 yards on 163 carries (3.9 per rush). And they've needed to do that - quarterback Terrel Hunt went from completing 33-of-43 passes in his first three games for seven touchdowns and no picks to 18-of-44 (40.9%) for 126 yards, no touchdowns and five picks in the last two games. That's ... well it's not good. So ... run!
KEY FOR GEORGIA TECH
Stop turning the ball over. Football Dr. Brownlow at your service. Georgia Tech turned it over just three times in its first three games, and it won all three of those! The last three, though? Eight turnovers. Eight. And the Yellow Jackets allowed a touchdown after the last five turnovers they've committed (three at Miami, two at BYU). The timing hasn't been very helpful, either. Five of those eight turnovers in the last three games have come in the fourth quarter. Oh, and under Paul Johnson, Georgia Tech is 22-24 when committing the same or fewer turnovers as its opponent and 22-5 when committing fewer. You know what? I've solved the problem. If only it were that easy. 
HERE'S A GUY
Durell Eskridge. Syracuse's secondary is young, and it is vulnerable. And alone. (Not really alone.) But fortunately for the Orange, the front seven have done a good job of masking the secondary's deficiencies, particularly against teams that are less offensively competent than a team like Georgia Tech. Eskridge, though, has helped. The sophomore safety leads the team with 41 tackles. Last weekend at N.C. State, he was a game-changer for the Orange with 13 tackles (seven solo) and an interception. It was his second pick of the year. And considering how charitable Georgia Tech has been with the football lately (have a turnover, please, dear opponent!), Eskridge could be the willing acceptor of said gift(s).
THIS GUY
Vad Lee. Remember when Vad Lee was really good? Well, he was. AND HE STILL CAN BE! WE BELIEVE IN YOU, VAD! DURHAM 4 LIFE! In fact, here's proof - the first three games this season, he completed 56% of his passes for 418 yards, seven touchdowns and just one interception. He also ran for 173 yards and three scores. But in the last three games, Lee has completed just 33.3% of his passes for 340 yards, no touchdowns and four interceptions. And he has just one rushing touchdown in that span. Syracuse's secondary is certainly not on the level of Virginia Tech's, Miami's or BYU's, so there's that. But Lee is going to have to make good decisions with the ball and BE THAT QB WE ALL KNOW YOU CAN BE, VAD! YOU'RE VADULOUS! ... (I'm sorry.)
STATS ARE FOR LOSERS
Last week, Syracuse not only got its first ACC win, it also vanquished a foe it had never beaten before in N.C. State. It could do that again on Saturday; the Orange is 0-2 against Georgia Tech and both meetings have been neutral-site games. The last was a 51-14 Georgia Tech win in the Champs Sports Bowl in 2004. ... Georgia Tech though, is looking to preserve its 5-1 record against teams from the state of New York. Seriously. (3-1 against Army, and 2-0 against Syracuse.)  ... Syracuse has lost just one fumble this season, and the Orange has gone 416 snaps without one. ... Georgia Tech has finished .500 or better in ACC play for 18 straight seasons, the longest streak of its kind by any team in the country. That ... well, it's too early to say that's in danger this season but ... yeah. 
NARRATIVES
Syracuse Win: Insert "Prettay good" GIF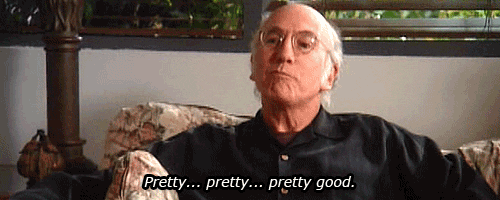 Syracuse Loss:
This ACC thing seemed fun until we saw this weird offense with all of its cut-blocking and magical powers!!!!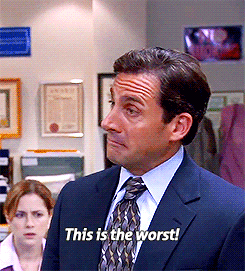 Georgia Tech Win: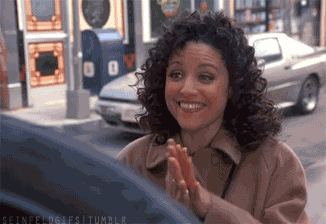 Georgia Tech Loss: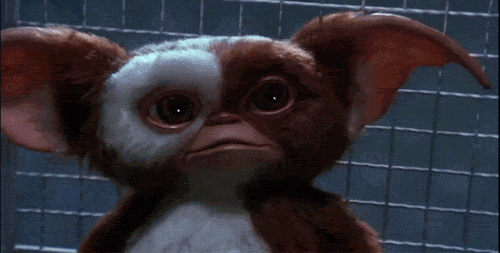 PREDICTION
Georgia Tech, 31-20. First time seeing that Paul Johnson offense? Best of luck, new ACC friends.
MARYLAND (5-1, 1-1 ACC) AT WAKE FOREST (3-3, 1-2)
Time: 3:30 p.m.
TV: ESPNU 
KEY FOR MARYLAND
Um, defense? You guys still there? Maryland's defense is better than its last two games would indicate. The Terps gave up 41 points in their first four games and have given up 89 in their last two alone. (Yes, 63 of those were by Florida State.) Maryland has lost some key contributors on that side of the ball (What? Injuries? Weird.), but Virginia was not playing well offensively going into last week's game and still moved the ball quite well. Wake Forest gained a lot of confidence in its last game against N.C. State on offense, and Maryland has to figure out a way to slow the Deacs down.
KEY FOR WAKE FOREST
That stuff you did against N.C. State? Do that. Wait, I'm serious though. WIDE LINE SPLITS! NO ONE CAN STOP THE WIDE LINE SPLITS! Okay, now I'm really serious. What I mean by this is find a way to move the football and play well on defense. It's really not rocket science. (Which is the only reason a female brain like mine can process it, eh?) But it has SEEMED like rocket science for Wake Forest at times this year. Wake Forest needs to get back to its roots - make opponents pay for mistakes, capitalize on opportunities and play smart football.
HERE'S A GUY
C.J. Brown. It was hard not to feel for Maryland's senior quarterback - who's had about as bad luck injury-wise as one can have - when he was knocked out of the game at Florida State with a concussion. Fortunately, it wasn't so bad that he would miss the season, and he was cleared for this week. But how will he play? In the last two games, Brown's numbers were starting to slip. He was 23-of-40 for 292 yards, one touchdown and no picks. And he had 17 rushes or 29 yards and one score. But in the three games before that, Brown had 833 yards passing and six touchdowns, adding five touchdowns on the ground. Obviously, Maryland's competition has ... gotten better. But even before his injury against FSU, Brown was just 6-of-14 passing for 82 yards.
THIS GUY
Tanner Price. He might have played last year in the loss to Maryland ... but his best receiver, Michael Campanaro, didn't. (PS - Campanaro is a Maryland native. Worth keeping an eye on.) Wake's best quarterback not named Riley Skinner has had a bumpy year this year, but the way he played in the win over N.C. State would seem to suggest he's getting it together. Entering that game, Price had averaged just under 200 yards a game passing and was completing 56.7% of his passes, for six touchdowns and two interceptions. As far as running the ball? Not so much (48 times for 76 yards). But against N.C. State, he did both well (268 yards passing for three touchdowns to one interception; 18 rushes for 82 yards and a score). And let's face it - he's going to need to keep that up if Wake has any remote chance of reaching a bowl game.
STATS ARE FOR LOSERS
One win and Maryland will be bowl eligible for the first time since 2010. ... Maryland has only won one ACC road game under head coach Randy Edsall and is 0-3 in its last three trips to Winston-Salem. THE BLACK HOLE! ... A win for Wake Forest would tie Jim Grobe for first place all-time in Wake Forest history with Peahead Walker (77). ... Campanaro is 11 catches away from breaking the school record for receptions, set by Desmond Walker. ... Wake is 8-5 after a bye week under Grobe.
NARRATIVES
Maryland Win:
Hey, you're in a bowl!
Maryland Loss: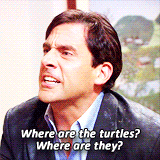 Wake Forest Win: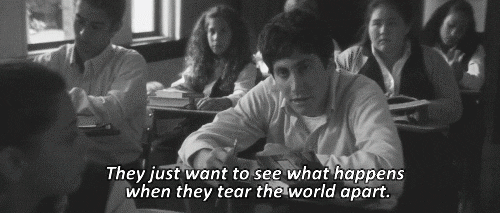 Wake Forest Loss: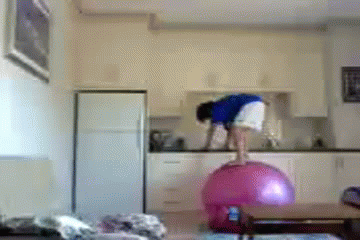 PREDICTION
Maryland, 22-16. Wake Forest might make this scary for awhile - the Deacs have a tendency to do that - but ultimately, Maryland is still a good team and they should find a way to get it done.
DUKE (4-2, 0-2 ACC) AT VIRGINIA (2-4, 0-2)
Time: 3:30 p.m.
TV: RSN
KEY FOR DUKE
Defense!!!!!! The 319 yards Duke held Navy to last weekend were nearly 200 fewer than the Blue Devils allowed to Troy (512) two weeks before. Obviously, Troy can be explosive offensively, but still. Duke does have five sacks in the last two games, including two against a Navy team that rarely throws the ball. Duke allowing seven points to anyone, much less a competent team like Navy, is certainly an accomplishment. And Virginia has been far from dangerous on offense. But the Blue Devils have not been able to get a lot of pressure on quarterbacks with their front four, and it's not like Virginia lacks playmakers. If Duke can make the Cavaliers pay for mistakes on offense while also containing them and not allowing a big play, the Blue Devils should actually win pretty handily.
KEY FOR VIRGINIA
Offense!!!!!! Why not, right? The Cavaliers had some last week, cranking out 505 total yards against one of the better defenses in the ACC. And on the road, no less. Only problem? They ran 93 plays, so 5.4 per play is not terrible but certainly not great. And hey, offense works pretty well when you don't turn it over, UVa. (At all. Seriously, zero turnovers. And they lost. We're in bizarro world.) Also, Virginia's line didn't allow a sack.
The real issue was that in the red zone, Virginia settled for field goals four times in six trips. Duke has only allowed 20 red-zone trips this year (in part because it has allowed some big plays, but yeah) and Duke's opponents have scored a touchdown on 12 of those trips. The Duke defense can be had, if Virginia knows how.
HERE'S A GUY
Anthony Boone. So much for rust, eh? Boone came back last week against Navy - his first game since breaking his collarbone at Memphis in Week 2 - and completed 31-of-38 passes for 295 yards, three touchdowns and no interceptions. That's ... pretty good. Completion percentage was always the knock on Boone, and in an (albeit limited) sample size this year, he's showing he's improved (after 51.6% last year, he's 78.4% this year). He saw just spot duty last year but still played in 12 games. He had 531 yards passing. He has 570 yards passing in three games this year (two full games). It's hard to know what Boone will do against a real defense - and yes, Virginia has one - until we see it, but judging by last week, he should be okay. Oh, and don't forget he made a spot start last season against ... wait for it ... UVa and threw for four touchdowns. So there's that. 
THIS GUY
David Watford. UVa head coach Mike London said this week that Watford had his best game as UVa's starting quarterback at Maryland. Considering the competition, that's probably true. He was 27-of-44 for 263 yards, one touchdown and no picks. And he added 34 yards rushing on seven carries. Watford completed passes to 11 different receivers, too. But remember last year when Philip Sims got his first start at Duke, coming into that game playing well, and ... it didn't go well? It doesn't necessarily mean anything for Watford, who will be at home, but it's worth remembering. Watford has shown the tendency to be turnover-prone this year, and he's going to need to, um ... not do that. If he stays patient, he should be able to find his receivers.
STATS ARE FOR LOSERS
Duke's latest win over the last three seasons (including this one) was October 20 last year against UNC. This game, as we all know, is on October 19. Duke has won just one game in the month of November under Cutcliffe, and since Virginia Tech is the only other game in October, beating Virginia becomes that much more critical for Duke's bowl hopes. ... Even though Duke has won four of the last five in the series, Virginia has won 22 of the last 30 meetings overall. Virginia leads it 33-31 all-time. ... UNC might be Virginia's most common opponent, but Duke is its oldest (the two started playing in 1890).
NARRATIVES
Duke Win:
ONE WIN AWAY FROM A BOWL, BABY!
Duke Loss:
NOOOOOOOOOO!!!!!!!!!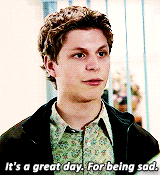 Virginia Win:
Hey, so ... we're not North Carolina, right?!?!?! That's ... something.
Virginia Loss: 
PREDICTION
Duke, 23-20. An ACC writer (honestly don't remember who) tweeted last week that Virginia "shouldn't take Duke lightly". Um ... Duke has won four of the last five in this series. Cutcliffe OWNS the 'Hoos. Virginia is a game away from going full-on UNC, and that's extremely ill-advised. 
OLD DOMINION (4-2) AT PITTSBURGH (3-2)
Time: 7:00 p.m.
TV: RSN 
KEY FOR OLD DOMINION
Third down. Old Dominion is going to have to keep drives going and be efficient. Against ECU and Maryland, the Monarchs converted 13-of-30 third downs (43.3%) - still pretty respectable for a transitioning FBS team against two long-time FBS programs. But in all other games, ODU has converted 31-of-50 third downs (62%). ODU is going to trail in time of possession because of the nature of its up-tempo offense, but the Monarchs certainly an't afford a lot of quick three-and-outs. After allowing its first three opponents to convert 18-of-38 third downs (47.4%), Pitt's defense has held Virginia and Virginia Tech to a combined 11-of-37 over the last two games (29.7%). Pitt's going to have to get ODU off the field.
KEY FOR PITTSBURGH
Be able to throw if necessary. ECU threw it 54 times against the Monarchs (for 447 yards), but didn't run it all that well (22 for 34).  But Maryland didn't have to throw the ball much. The Terps ran it 46 times for 312 yards (6.8 a carry). And after that Maryland game, ODU allowed 659 rushing yards in its next two games combined against Howard and the Citadel (453 in that one!). But ODU has since stiffened its run defense, allowing just 202 yards total in the last two games (to Albany and Liberty, but still). But that's probably why the ODU defense went from allowing 524.8 yards per game in its first four to 363 in its last two. Oh, and Pitt's offense seems to have come back to Earth a bit after the pointsplosion in Durham, so there's that.
HERE'S A GUY 
Taylor Heinicke. ODU's senior QB has been covered in this space before, but ... man. Special shoutout, bro. He's almost like this generation's Bill Brasky. "Did you know Taylor Heinicke once completed 55 of 79 passes for 730 yards against New Hampshire?" "Yeah, but did YOU know that he passed for 480 yards in just the SECOND HALF?" "Oh come on, he had 293 yards in that fourth quarter ALONE!" These are all true statements.
But obviously Heinicke's not invincible. In two games against Maryland and ECU this year, he completed ONLY 66% of his passes for 504 yards, three touchdowns and three picks. He was also sacked six times in those games. In his other four games, Heinicke has completed OVER 79 PERCENT of his passes for AN AVERAGE of 396 yards per game, 11 touchdowns and two picks. He's also been sacked just twice in those four games. Oh, and he's the second leading rusher on the team (53 attempts for 235 yards and four touchdowns) on the team this season. I heard he even beat a big horn in a staring contest, and that's impossible.
THIS GUY
Devin Street. Oh sure, freshman Tyler Boyd might be the flashier one of the two of them, racking up a 154 yards and three scores at Duke. But Street, the senior, is the consistent one. He has at least 58 yards in every game this season, including five catches for 104 yards against Virginia Tech's secondary - no small feat. Boyd has struggled against the two opponents with legit secondaries (FSU and Virginia Tech - four catches for 46 yards combined in those two games). But Street? Those secondaries haven't slowed him; he has averaged 5.5 catches for 122.5 yards against those two teams. And you know what? Considering who he has had throwing the ball to him the last few years, what Street has done in his career deserves extra props. And Street needs just two more catches to pass Latef Grim for the all-time Pitt record for career receptions. (Come on, you all remember Latef Grim! He was one of Viktor Krum's teammates on the Bulgarian National Quidditch Team.)
STATS ARE FOR LOSERS
This is the first meeting between the two schools. ... It's all or nothing for this ODU defense. Almost literally. It has allowed 10, 17 and 19 points this season (in three wins). And it has also allowed 52, 47 and 58 (the last one the only win of those games). ... Old Dominion is coming off of a bye week, and it is 4-1 coming off a bye all-time. ... After allowing 55 points to Duke, Pitt's defense has allowed just one touchdown since (22 total points, though, because of five field goals). ... The old ACC members thought they had this punting thing on lock. But nooooooo. Pitt punter Matt Yoklic is the one leading the ACC in punting average (45.3). I'm telling you, these other ACC punters aren't stepping up to the challenge. ... This shouldn't be too surprising, but considering how derpy Pitt's offense has been in recent years, it kind of is - Pitt is 21-0 since 2001 when its defense scores a touchdown.
NARRATIVES
Pittsburgh Win:
Pittsburgh Loss: 
PREDICTION
Pitt, 48-27. Vegas has the over-under in this game (for entertainment purposes only!) set at around 61. That seems way too low. But, you know, Vegas knows. Thus, this final.
NO. 5 FLORIDA STATE (5-0, 3-0 ACC) AT NO. 3 CLEMSON (6-0, 4-0)
Time: 7:00 p.m.
TV: ABC
KEY FOR FLORIDA STATE
Establish the run early. In arguably the only game in which FSU struggled to date (at BC), the Seminoles didn't even attempt a rush until their second drive. On their first nine carries of the game, FSU gained juust 19 yards (2.1 per carry). Perhaps not coincidentally, they were down 17-10 at that point and had been down as much as 17-3. And after that, the 'Noles had 27 for 140 (5.2). Clemson has shown itself to be vulnerable against the run. But interestingly enough, that hasn't really been true in two of its three close games (at N.C. State and BC at home). N.C. State isn't a great running team anyway, but BC had been to that point. And Georgia ran for 222 yards on Clemson, but ... it's Georgia. (And a healthy Georgia.)
With all the fuss made over Clemson's run defense, does it really matter if the yards have come in games that Clemson won comfortably? I say no. And so that's why Florida State needs to make sure it proves to Clemson it can run the ball early, take some of the air out of the crowd and maintain possession of the ball. It'll also make things a heck of a lot easier on the Seminoles' young quarterback. They're going to have to do something to keep Clemson's talented d-line at bay.
KEY FOR CLEMSON
Offensive line play. Clemson's OL didn't play badly against BC by any means. Now, it's not helping when it comes to the running game, which is still largely ineffective. But Tajh Boyd didn't get sacked at all and got hurried just once. (Those numbers don't seem to account for other times Boyd was perhaps ... rushed? Slightly? But Boyd tends to make things happen and get his team out of trouble, which probably masks some of that. This film review from Shakin' the Southland from the BC game seems to back that up.) It was just a general derpiness that hung over the Tigers, like Chandler Catanzaro missing a 25-yard field goal, multiple fumbles and procedural penalties. N.C. State, the other team that gave Clemson's offense trouble, does have a talented defensive line (when healthy). It's not on the level of FSU's, though. And if Clemson's front has as much trouble handling FSU as it did the Wolfpack, Tajh Boyd had better start praying. 
HERE'S A GUY
 *Gruden voice* Here's a guy, Jameis Winston. I mean, this kid can make throws when he's ALMOST ON THE GROUND! You try to tackle him? Nope. You can't. You just bounce right off, Jaws. It's like this guy is made of some kind of a bouncy-type of product, ya know? And he's so BIG! I mean, he's a real mountain of a guy. It takes half the team to bring him down, and even then, I'll bet he could still throw a few touchdowns! EVERY TIME I watch this kid on film, I say to myself, ARE YOU KIDDING ME?! HOW CAN A KID THIS YOUNG BE SO SMART? HOW CAN HE BE SO CALM, COOL AND COLLECTED??????? I don't know, Jaws, but I know this - if I'm taking my team into a hostile environment? Give me Jameis Winston. Going to Death Valley? Absolutely, here's a guy I want leading my team into battle. Death Valley? Yep. Lambeau Field? Why not? (Well, at the very least he could probably win in Jacksonville BECAUSE WHO CAN'T, eh Jaws? RIGHT? *Nudges Jaws in ribcage* Will he have a freshman moment or two? WHY WOULD HE WHEN HE NEVER HAS, ya know? He is SPECIAL, man.
THIS GUY
*Gruden voice* This guy, Sammy Watkins. Is there a guy in the entire universe that's faster than him? Probably not, unless it's some kinda alien. And who knows? Maybe Watkins is an alien? I don't know what he is, I just know he's fast. Last year, everyone kept saying, "What happened to Sammy Watkins?" Well nothing happened to him, Jaws. DON'T THOSE PEOPLE FEEL STUPID?!?!? I mean, just look at his numbers this year: 36 catches for 582 yards - that's 16.2 a CATCH! And he's averaging 97 yards A GAME! That's just silly. But it is true that last year against Florida State, Watkins had just six catches for 24 yards. But as a freshman, he had seven for 141 and two scores, so who cares! This year, FSU cornerback Lamarcus Joyner will be on him, and that guy's pretty good in his own right, ya know? But Watkins? He's just too powerful for any human being to slow down! Because of the alien thing. Seems like an unfair advantage, but they just live among us like regular people! Sometimes, ya just get lucky.
STATS ARE FOR LOSERS
Florida State leads the all-time series, 18-8. ... Clemson's 61 tackles for loss are the most among FBS teams. ... Clemson will be celebrating its Daboversary this week - it's been five years since they hired him. ... This is just Clemson's second top-five matchup ever; the first was in 1982, when Clemson played No. 4 Nebraska in the Orange Bowl. (Clemson won, 22-15, and won the national title.) ... The last time a road team won one in this series was in 2006 (Clemson in Tallahassee), and FSU's last win in Death Valley was in 2001. And yes, it was a Bowden Bowl.
NARRATIVES
Florida State Win:
FSU IS BACK! JIMBO FINALLY GOT THE QB OF HIS DREAMS! FSU IS THE REAL NATIONAL TITLE CONTENDER! ADD ANOTHER PIECE TO THE SOD CEMETERY!
Florida State Loss:
Florida State ... not back? But hey, it was a great game and these are STILL the best two teams in the league! (Also, Florida State fan makes 12-minute YouTube clip of missed calls. Wait, this might even happen if FSU wins. Carry on.)
Clemson Win:
Wait, is this good or bad for the ACC? So this is good, right? I can never keep track anymore.
Also, hungry tiger is hungry.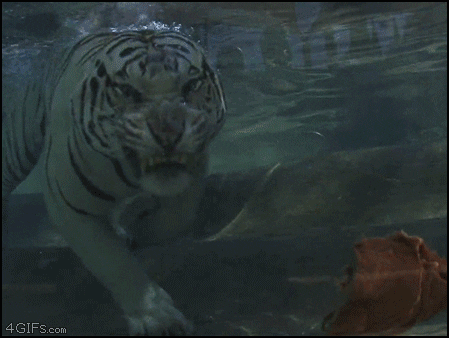 Clemson Loss:
CLEMSONINGCLEMSONINGCLEMSONINGCLEMSONINGLOLOLOLOLOLOL
(Even though, bee tee dubs, this is NOT Clemsoning. But, you know, carry on, narrative that is bigger than any of us. Carry on.)
PREDICTION
Florida State, 31-30. Ultimately, I just think that Clemson's offensive line is not going to be good enough to get it done, and that Jameis Winston will find a way to exploit a vulnerable Clemson secondary. 
Week 7: 5-1 (3-1 ACC)
Overall: 51-12 (14-6 ACC)