Tuesday, October 8, 2013 3:56pm
There's a lot to like about this league, there really is.
It's usually entertaining and definitely unpredictable. Its Twitter fanbase has just the right mix of aggressive snark and self-deprecating humor. 
But when it comes to power rankings ... I kinda hate this league. I NEED A LITTLE CONSISTENCY PEOPLE!!!!
(And by people, I basically mean every team but the top four in this league. To you guys, I say "thanks.")
But I'm going to plunge ahead. While recording the podcast on Monday night, Hayes Permar suggested I divide the league up into tiers and rank them that way. I've done some rough groupings - most notably the Wheel of Uncertainty cluster - but in the end, I still have to attach a ranking number next to each team. So ... well ... yeah. 
NO. 1 CLEMSON
 Clemson rolled, Tajh Boyd was awesome, yadda, yadda, yadda. 
Let's get to the good stuff: Dabo Swinney really, REALLY, ticked off Syracuse coach Scott Shafer, when he elected to go for it on fourth down from the Orange 5-yard line at the end of the first half, rather than kicking a field goal. The score at the time was 35-7 Tigers.
Now in general, I'd be on Clemson's side here. I don't think you can be accused of running up the score when the game's still in the first half.
Still ... why not just kick the field goal there, Dabo?
"We felt like we had control of the game," Swinney said. "We just didn't want to give them any chance at any momentum at all going into the half; we knew it was risk-reward."
So, in order to avoid giving the other team momentum, you went for it on fourth down (and failed) rather than tacking on to a 28-point lead? 
"Were we supposed to take a knee? We've got a whole lot of football left, and anything can happen. You saw in the third quarter when they had momentum there; there's nothing less important than the score at halftime."
No, you certainly weren't supposed to take a knee. The field goal was definitely an option, remember?
"A game is never over until the last second ticks. So I'm not taking knees in the second quarter."
Fabulous. How about a field goal?
My guess: This was a particular scenario that Dabo wanted to try in a live-game situation and what's the harm doing it when you're up 28 and it's still the first half? That, I get.
The whole "take a knee" argument? That, I don't get. 
Record: 5-0, 3-0 ACC
Previous Rank: 1
Last week: Won 49-14 at Syracuse.
This week: Saturday, 3:30 vs. Boston College
NO. 2 FLORIDA STATE
 Man, that was old school FSU. 
Remember the days when some ACC pretender would get off to a hot start and then run into the demoralizing brick wall that was FSU? That's what last Saturday reminded me of. 
(It also left me completely clueless as to how to rank Maryland. But that's a problem for later in this article.)
Speaking of old school, for some reason this gif of Jameis Winston getting some pregame jewelry gave me a Deion Sanders vibe. And that made me happy.
Oh and I'd be remiss if I didn't throw this in as well.
Record: 5-0, 3-0 ACC
Previous Rank: 2
Last week: Won 63-0 over Maryland
This week: Bye
NO. 3 MIAMI
Okay, I feel considerably better about Stephen Morris now.
I'd been a Morris skeptic up until last Saturday, when he torched a previously solid Georgia Tech defense for 324 yards and 3 TDs on 17-of-22 passing. Yes there were the two interceptions, but with those risks came the big rewards in the downfield passing game, as wideouts Allen Hurns, Phillip Dorsett and Stacy Coley each had a reception that went for at least 40 yards.
Oh, and Duke Johnson was ... Duke Johnson. He's proven to be more of a workhorse than I thought he could be, as he had 22 carries against the Yellow Jackets, for 184 yards. 
Record: 5-0, 1-0 ACC
Previous Rank: 3
Last week: Won 45-30 over Georgia Tech
This week: Bye
NO. 4 VIRGINIA TECH
The Hokies just won't let me get comfortable with them, you know? Coming out of that Marshall game I was ready to pronounce the Hokies as also-rans in the Coastal. So naturally they went down to Atlanta and whipped my personal faves, Georgia Tech. 
Going into halftime of the UNC game, I was as high on Virginia Tech as I had been in a long while. Logan Thomas was starting to show that promise we'd witnessed his sophomore season. Willy Byrn was drawing the inevitable Danny Coale comparisons and causing countless people to misspell his name either "Byrne" or "Burn." 
Then the second half rolled around and the Hokies went back to that ugly offense that always keeps you at arm's length. Against a UNC defense that will remind exactly zero people of the Steel Curtain, Virginia Tech managed all of 64 second half yards, including just one - yep, one - on the ground.
Still, 5-1 and 2-0 is ... 5-1 and 2-0. They award style points in the national polls - which is why the Hokies are only No. 24 in the AP Top 25 - but only your record matters in the Coastal Division standings. 
Record: 5-1, 2-0 ACC
Previous Rank: 4
Last Week: Won 27-17 over UNC
This Week: Saturday, noon vs. Pitt
And now we move on to ... the No. 5 team in the power rankings. 
Be careful here and watch your step. There's a bit of a drop-off ...
NO. 5 GEORGIA TECH
Look, I don't feel any better about this than you do. I mean, moving a team UP after it lost its second straight game? 
Yep, we've entered the #goacc portion of our program. Get used to it because it's going to be this way all the way through team No. 14, I'm afraid.
Here's my tepid argument. The Yellow Jackets lost to two of the top four teams in these power rankings and were right in both games in the fourth quarter.
Now, has Georgia Tech really beaten anyone, outside of 1-4 UNC? Well ... no. But like I said, this is a tepid argument at best. 
Record: 3-2, 2-2 ACC
Previous Rank: 6
Last week: Lost 45-30 at Miami
This week: Saturday, 7 p.m. at BYU

NO. 6 MARYLAND
How in the world do I only drop a team that lost by 63 points two spots in the rankings? Easily, actually.
First argument: You saw how flimsy my case was for putting Georgia Tech at No. 5. Everyone's case just gets flimsier from here.
Second argument: I'm not saying Maryland was going to knock off FSU, but things took a definitive turn for the worse when quarterback C.J. Brown was knocked out of the game on this vicious hit by FSU's Jacobbi McDaniel.  After that, it was flashbacks to 2012, when the Terps were losing QBs ... and losing games.
(Was that hit "targeting"? I don't know. It's really hard to lead even with your shoulder without getting the helmet involved in the hit. It did look like at least roughing the passer ... which wasn't called. Bud Elliott of TomahawkNation.com gives a pretty good argument for why it wasn't targeting. I don't know. It was ... really close. And that's in slo-mo.) 
Still, injured QB or no injured QB, 63 points is ... not good. I'm reminded of my preseason description of the gap between second and third in the Atlantic Division.
Record: 4-1, 0-1 ACC
Previous Rank: 4
Last Week: Lost 63-0 at FSU
This Week: Saturday, 3:30 vs. Virginia
 
NO. 7 PITT
I have to hand it to you, Pitt. You've come into this league and picked up on the wild swings and inconsistency of the ACC so naturally.
Are you the high-flying offense, but sieve-like defense that outlasted Duke, 58-55? Or are you the stingy defense and punchless offense that outlasted Virginia, 14-3? 
And how did you pull off that sort of swing in just one week? And what does it mean for the future? And where should I rank you? 
And where the heck am I?
 Just so many questions that keep coming up over and over again, like bubbles in a case of club soda ...
Here's one thing I do know. After watching Tom Savage get abused against Virginia and knowing that the Hokies are up next, it's time to #Pray4Savage.
Record: 3-1 overall, 2-1 ACC
Previous Rank: 8
Last Week: Bye
This Week: Saturday, noon at Virginia Tech
 
NO. 8 BOSTON COLLEGE
When I was filling out my preseason All-ACC team, I was momentarily stumped when it came to picking the second running back for first team. Duke Johnson and .. I went with Syracuse's Jerome Smith.
Now? That answer is pretty clearly Andre Williams. I mean, after all the guy is leading the nation in rushing, having piled up 786 yards already in the Eagles' first five games. 
This is BC football the way I remember it when, when the Eagles were churning out bowl bids and 8-9 wins ever year. That said, let's not get ahead of ourselves. Instead, let's let Steve Addazio add a little dose of sobering reality to the situation:
"He has to be (leading the nation)" Addazio said after BC's win over Army, in which Williams piled up 263 yards. "For us to have success right now, that's what he has to be."
Addazio's right. The defense lacks speed and the rest of the offense - outside of WR Alex Amidon - lacks explosiveness. BC needs Williams to keep grinding out big yards if it wants to make a bowl game. 
This week, even if Williams puts up big numbers again, I can't see how it would be enough to hang with Clemson. 
Sorry to depress you, BC fans. Let's end this segment on a high note. How about some highlights of Williams against Army?
Record: 3-2, 1-1 ACC
Previous Rank: 9
Last Week: Won 48-27 over Army
This Week: Saturday, 3:30 p.m. at Clemson

And now we've reached the fun part. You think things in the ACC were muddled up until now? Wait until you see teams No. 9-14? 
There's only thing to do now: LET'S SPIN THE WHEEL OF UNCERTAINTY!!!!!!
NO. 9 N.C. STATE
Aaand it comes around ... the Wolfpack!!!!!
Yes, that just lost to the No. 14 team in last week's power rankings ... by 15 points. Again, I don't like this any more than you do, people. 
Hear me out. While Wake has the head-to-head win over State, State doesn't have a loss to Louisiana-Monroe on its docket either (although without Niklas Sade's leg against Richmond, State certainly would).
And I'm basing at least part of this on some of the injury issues the Wolfpack has endured - most notably with QB Brandon Mitchell, but also with other key contributors such as WR Rashard Smith and OT Rob Crisp. 
Mitchell is looking like a borderline call for this weekend's game against Syracuse. The Wolfpack should get back RB Matt Dayes and WR Marquez Valdes-Scantling against the Orange. If State can somehow find its way past the Orange, it has a bye week to get healthy and then may be a considerably more dangerous team. 
Finally, there's the eye test. The State team I saw hold its own against Clemson looks better than any version of Wake I've seen this season. 
Record: 3-2, 0-2 ACC
Previous Rank: 9
Last Week: Lost 28-13 at Wake Forest
This Week: Saturday, 3:30 p.m. vs. Syracuse
Another spin of the wheel and ...
NO. 10 NORTH CAROLINA
 We come up on ... the Tar Heels? The guys who couldn't tackle anyone wearing an ECU uniform a couple of weeks ago? The guys who have lost three in a row and were last seen trying to play defense with NINE GUYS ON THE FIELD!!?!
Siggh ... yeah. 
Look, the ECU game was bad, I'm not going to try to spin that any other way. But the losses to Georgia Tech and Virginia Tech were both games in which UNC was right there in it in the fourth quarter. 
(Yes, we've reached the point in the rankings where close losses start to carry weight. Just hold your nose. We're almost done.)
Also, bear in mind that UNC's schedule is front-loaded ... in a bad way. South Carolina, Georgia Tech, Virginia Tech and Miami ... all in the first six games. Gee, thanks schedule makers!
My point is that, even though the skys in Chapel Hill are more cloudy than Carolina blue right now, I can foresee brighter days ahead. 
(You're right, that was an awful metaphor.)
Anyway, these are power rankings, not pure rankings. That means I'm allowed to factor in things like the eye test and future trends when putting this together. And that's how you get the Tar Heels at No. 10. 
Record: 1-4, 0-2 ACC
Previous Rank: 12
Last Week: Lost 27-17 at Virginia Tech
This Week: Bye
 NO. 11 WAKE FOREST 
On another day a spin of the wheel of uncertainty may well have landed the Deacs all the way up at No. 9. But a jump of five spots is a heck of a lot for one week. And let's face it, the Deacs had done their share to earn that No. 14 spot before. There was the loss to ULM. The loss to BC. Getting its doors blown off by Clemson.
That said ... 
(Don't play a drinking game involving the number of times I flip-flop in one set of power rankings. You will die a horrible death.)
That said ...
The Deacs could well have won the ULM game and the BC game with a break here or there. But, well, they didn't. They did, however, beat N.C. State. And they seemed to scrap that ill-fated option idea in the process. So things are looking up in the Dash. At least for now. 
Also, bear in mind Wake has a bye week this week. In this area of the power rankings, sometimes not playing at all can give you a real shot at moving up.
Record: 3-3, 1-2 ACC
Previous Rank: 14
Last Week: Won 28-13 over N.C. State
This Week: Bye
NO. 12 SYRACUSE
The Orange doesn't have a head-scratching loss to this point - though that loss to Penn State is looking worse with each passing week, it seems - but Syracuse doesn't have any wins to write home about, either. In other words, they're an ideal fit for the Wheel of Uncertainty zone.
Here's one thing I am certain about. There were a lot of Clemson wideouts running WIDE open in the Syracuse secondary on Saturday. 
I'm also certain that Scott Shafer burnished his "hard-nosed" reputation by blowing a gasket at Dabo Swinney on Saturday as well. That doesn't help you in the power rankings, but it does make things more fun around here, so we appreciate that.
We'll finally get a better feel for Syracuse this Saturday when they face a fellow Wheel of Uncertainty opponent in N.C. State. 
Record: 2-3, 0-1 ACC
Previous Rank: 10
Last Week: Lost 49-14 to Clemson
This Week: Saturday, 3:30 p.m. at N.C. State
NO. 13 DUKE
Congrats Duke! You're out of the cellar! Through none of your own doing, but still! 
And now you've had a week off to get healthier , to get QB Anthony Boone closer to his return, and that's followed by a winnable game against Navy! 
Which ... is also highly losable. The Midshipmen already have a win this season over Indiana, which knocked off Penn State last weekend. And the last time we watched Duke against a triple option team, the Blue Devils were getting run over and around by Georgia Tech, to the tune of 344 yards rushing. 
Fortunately for Duke, Navy doesn't have the passing threat - nor anywhere near the overall talent - that the Yellow Jackets have. So that beleaguered secondary should get a reprieve. 
This is a tricky game, but Blue Devils, if you're going to keep that "Same Old Duke" label off that you managed to shed last season, it's one you have to win. 
Record: 3-2, 0-1 ACC
Previous Rank: 13
Last Week: Bye
This Week: Saturday, 12:30 p.m. vs. Navy
 
NO. 14 VIRGINIA
I know, I know UVa has that win over BYU, which is better than anything any other Wheel of Uncertainty team has but ... that win's starting to look more and more flukish with each passing week. And the Cavaliers were No. 12 in these rankings before Wake won and before the Cavs got rolled at home by Ball State. (Let's take a moment to appreciate Ball State coach Pete Lembo, who's going to be a wanted man after this season.)
It's not just getting outscored 31-10 in the second half. Nor is it committing an eye-popping 13 penalties (UVa is now 93rd nationally in penalties per game). It's not even the 506 yards yielded by what we thought was UVa's strongpoint, its defense.
No, it's pretty much all that. And the small, sad crowd that witnessed it. And had this reaction.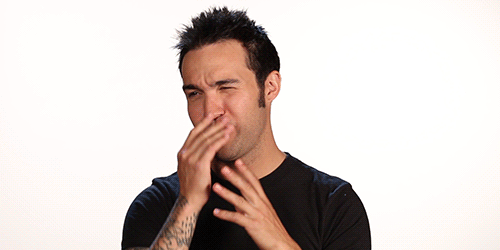 Record: 2-3 (0-1 ACC)
Previous Rank: 11
Last Week: Lost 48-27 to Ball State
This Week: Saturday, 3:30 p.m. at Maryland