Thursday, February 20, 2014 10:10am
Lauren Brownlow breaks down tonight's Duke-UNC matchup.
NO. 5 DUKE (21-5, 10-3 ACC) AT NORTH CAROLINA (18-7, 8-4 ACC)
Time: 9:00 p.m.
TV: ACC Network/TheACC.com/ESPN
THE SKINNY
Wait, do I really have to preview this game again? I JUST DID THIS LAST WEEK! Okay, so I'll probably be doing some copying and pasting from my previews last week with some stat-related stuff corrected. Deal with it, people. If Duke hadn't been terrified of playing in front of the UNC students, this never would have happened. So, just blame Duke. POINT AND LAUGH AND CALL THEM CHICKEN! 
Really, this game is going to come down to three things: free-throw shooting, Duke's three-point shooting (and UNC's three-point defense, of course, which is No. 1 in the league right now at 30.7% allowed in ACC play) and UNC's offensive rebounding. The first two factors are going to be largely determined by how well North Carolina can stop the ball and get to three-point shooters as well. The Tar Heels obviously are struggling a bit in terms of defensive free-throw rate allowed, and if they can't stop the ball and have to help, that trend is likely going to continue.And if they're not fouling Duke on drives, they're going to be collapsing on help defense and allowing open shooters. So it will be interesting to see how North Carolina handles that part of it.
But on Duke's defensive end, the Blue Devils are going to have to limit North Carolina to one shot. The Tar Heels aren't that great offensively right now, and they're thriving on getting second, third and sometimes fourth chances. Now, it doesn't always matter how many offensive rebounds UNC gets if it can't turn them into points - just ask Wake Forest, which rebounded nearly half of its misses against Duke and still lost by 20 - but Duke is certainly better served limiting that as best they can. 
And from a non-statistical standpoint, North Carolina has generally played better against teams that want to get out and run and play exclusively man-to-man defense, and Duke certainly does both of those. But can the Tar Heels keep pace offensively? That is the question. UNC doesn't have a lot of great shooters, as we know. (Or, basically just Marcus Paige.) So UNC is going to have to try to assert its will inside, where - at least in theory, anyway - UNC will have an advantage on Duke. But if Kennedy Meeks, for example, can't get up and down, or Brice Johnson is having trouble with physicality on the inside, is it really still an advantage? We'll see. It might come down completely to how the names to know (KEEP READING FOR MORE!) give their respective teams an advantage.
NAMES TO KNOW
Jabari Parker. I was admittedly among those critical of the assumption that Parker was a first-team All-ACC lock even before his ACC-only shooting percentage rose above 34%, but he certainly silenced me with his performance in the last four games. Parker has 89 points on 55 shots in that span, not to mention getting to the foul line 8.8 times a game. And he's averaging 11.5 rebounds, a steal, and 2.5 blocks. Yeah, that'll do pretty nicely. If he keeps playing like that and is officially no longer settling for jump shots, does any team in this league have someone who can slow him down? It's hard to see that. And he's going to be a matchup problem almost certainly for North Carolina. Other than Desmond Hubert - and that's a bit of a reach - North Carolina doesn't have a 5 who's capable of defending him. Will the Tar Heels be forced to go small if Parker is at the 5? And then will that mean James Michael McAdoo gets in foul trouble trying to slow down the talented freshman? Parker's obviously a matchup nightmare, but maybe McAdoo is UNC's best hope of slowing him down even a little bit. 
James Michael McAdoo. Speaking of McAdoo, does Duke have anyone that can guard him, really? Unless Parker has taken significant leaps in one-on-one positional post defense that I have missed the last few weeks, I'm not so sure. Our collective worlds got rocked a bit on Monday as McAdoo finished the game with zero points (and five fouls) in 13 minutes, and UNC was still able to overcome a deficit on the road essentially without him. But make no mistake - his energy and improved play are a big reason for this seven-game winning streak. McAdoo's improvement has been a result of no longer settling for jumpers; he's driving a lot more and drawing 7.3 fouls per 40 minutes (26th in the country). We all know his more natural position is at the 4, but if UNC is forced to go small to contend with Duke, will he be as effective? In two games against Duke as UNC's "center" a year ago, he had some good moments, but was 10-of-26 shooting with 11 total rebounds. While Duke couldn't guard him on one end, he couldn't guard Duke on the other. Same might hold true this year, but if he doesn't settle and attacks the basket, he at least makes things tougher on the Blue Devils. 
STATS ARE FOR LOSERS
Duke not only has the second-highest offensive efficiency in the country this year (126.3), but it's also the second-highest in the Ken Pom era (Creighton has a 126.9 this year). Next closest is 2005 Wake Forest (124.0). … Duke's defense has risen steadily this season - it was in the 100's at one point, it was 89th last week and now it's up to 65th in the country in Ken Pom's defensive efficiency this week (99.1). … If UNC's three-point defense in ACC play holds up - 30.7% allowed so far - it would be the lowest ACC-only mark in the Roy Williams era. UNC fans consistently complain about how the Tar Heels defend the three, but to be fair, since 2010, no UNC team has allowed higher than 35.3% from beyond the arc (last year's team), and the other three teams have been at 32.8% or below. The highest mark in the Williams era was 37.5% in 2004. …
Last year's Duke team, just like most Duke teams, didn't turn it over much. But against North Carolina, it had its two highest turnover percentages of the year (24.2% in Cameron and 24.6% in Chapel Hill). Luckily for Duke - well, not luckily, because Duke won the rematch fairly handily, but still - Duke shot above 50% eFG in both games. … UNC also posted two of the 10 worst eFG% performances against Duke last year, shooting 34.7% eFG in the home loss to end the season (fifth-worst) and 41.7% eFG in the five-point loss at Cameron.
NARRATIVES
In honor of last week's game being postponed because of the winter storm that wrapped its icy white hands around our necks in this area, and the ensuing narratives that resulted, all of my GIFs will be snow-related. And yes, it's now 70 degrees here. THANKS OBAMA!
Duke Win: All right jerks, can you quit whining about the snow now? This was Duke's team bus' attempt to pick up the team in Durham:

Duke Loss: THIS ISN'T SNOW KARMA! WE TRIED REALLY HARD TO PLAY IN THE SNOW!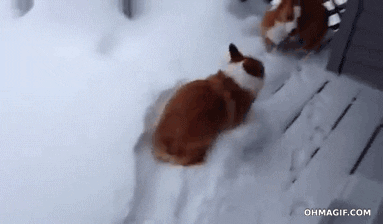 And also, just because: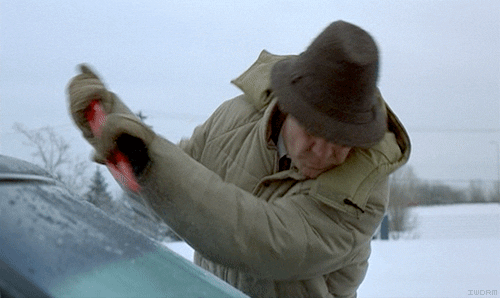 North Carolina Win: SNOW KARMA SNOW KARMA SNOW KARMA! WE TOLD YOU GUYS IT WAS TOTALLY SAFE LAST WEEK!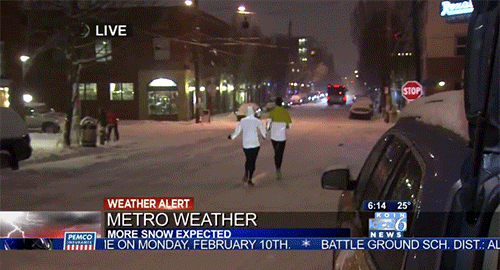 North Carolina Loss: BUT WE WERE TOTALLY READY TO PLAY IN THE SNOW YOU GUYS!
PREDICTION
Duke, 74-70. I predicted Duke last week, too. Little has changed my mind - I do think North Carolina is playing well, but I think Duke has more matchup advantages. As last night's 0-2 record would indicate, though, I do sometimes stand corrected. 
Last week: 12-1 (12-1 ACC)
Overall: 84-26 (75-22 ACC)