Tuesday, December 31, 2013 10:02am
What is an AdvoCare V100, exactly? Good question. The AdvoCare V100 tropical chews are a vitamin and mineral daily supplement. Which is good, because the first thing one thinks of when one's mind focuses on the tropics is Shreveport around Christmastime. But nonetheless, it's basically the Tropical Fruit Bowl.
One Heisman finalist. One guy who really wanted to be a Heisman finalist and might still be annoyed about it. ALL THE NARRATIVES!
TUESDAY
BOSTON COLLEGE (7-5) VS. ARIZONA (7-5) (ADVOCARE V100 BOWL)
Time: 12:30 p.m.
TV: ESPN
KEY FOR ARIZONA
Avoid the derp! It's pretty simple for Arizona - when the Wildcats don't turn the football over, they win. And when they do, they lose. It's science. But it's especially true that when Arizona doesn't turn it over AND forces opponent turnovers, it will definitely win. Arizona's turnover margin is +10 (16 gained, six lost) in seven wins compared to -6 (four gained, 10 lost) in seven losses. Boston College hasn't turned the football over much in wins or losses - seven in five losses, eight in seven wins - but the Eagles force a lot more in wins (14) than losses (four). The Eagles recovered a total of four turnovers by opponents in the last four games of this season, though (three wins, one loss) and things are a lot easier for the Boston College defense when opponents help them out. (Thanks again, Virginia Tech, for your four turnovers in Chestnut Hill!) No need for Arizona to make it any easier on the Eagles.
KEY FOR BOSTON COLLEGE
Probably diversifying the offense would help a little. Just saying. At least show that you're willing to pass, even though we all know you don't want to, Eagles. Chase Rettig/BC had a total of 288 pass yards over the last two games, a dominating win over N.C. State where they ran the ball at will, and a loss at Syracuse. Now, Syracuse has a pretty good run defense, and Arizona's is not great. The Wildcats allow an average of nearly 170 yards rushing a game and have allowed at least one 20-yard run in all but two games this year, as all but one opponent has cracked the 100-yard mark on the ground. But while Arizona has 16 interceptions as a defense, it has allowed an average of 235.5 yards a game through the air and allowed over 283 a game in the month of November. The fewest passes attempted against Arizona's defense all year was 25, though, and Boston College has attempted fewer than that in nine of 12 games. Something will have to give.
HERE'S A GUY
Ka'Deem Carey. Is he the best running back in the country not named Andre Williams? Very possibly. Carey has an Arizona career-record 4,070 yards and 50 touchdowns, and he has at least 125 all-purpose yards in 15 straight games. He finished with 1,559 yards this year and 16 touchdowns, averaging 5.4 yards per carry and getting plenty of them, averaging 24.2 per game. He had at least 100 yards in every game this season, cracking the 200-yard mark twice and scoring at least one rushing touchdown in all but two games. And he has at least one catch in all but two games. Carey is the centerpiece of this Arizona offense, and he's going to get his no matter what. What Boston College has to hope is that Carey doesn't dominate the game. His fewest yards per carry this season was 4.3 in the finale against Oregon. And he had 48 carries for 206 yards in that game (and four touchdowns). Plus, Arizona's system is much less traditional, pro-style than BC's - the Wildcats are a spread offense, so the Eagles will have to tackle in space.
THIS GUY
Andre Williams (#Andre2000). BC's senior running back dominated the awards season because he had 2,102 yards this year, over 600 more than Carey, and averaged 6.4 yards a pop. He, too, gets plenty of carries (27.4 per game), and it hasn't always mattered in terms of BC's wins and losses what Williams has done with the football. Generally, he's going to get his. But when he went out against Syracuse, that essentially changed the game for Boston College. The key is that the Eagles can't fall behind early, or he's not going to have much of an impact. When the Eagles can control the game on the ground and keep the game at their pace with Williams, they're good. But when they can't? Yeah. It doesn't matter how good Williams is at that point. Still, it'll be fun to watch BC's workhorse maybe run a few more defenders over for old times' sake before his college career comes to an end.
STATS ARE FOR LOSERS
This is the first meeting between Boston College and Arizona. Coincidentally - or not - this is the eastern-most bowl game Arizona has ever played in. … Speaking of firsts, this is the first time ever that two First Team AP All-America running backs will face off against each other in a bowl game. … Boston College is second in the country in red-zone offense, scoring 28 times in 29 trips. The Eagles have scored 17 touchdowns. … Boston College has 35 sacks, the most since the 2009 team had 35. That team included B.J. Raji, Ron Brace and Mark Herzlich.
NARRATIVES
Boston College Win: Steve Addazzio will be all: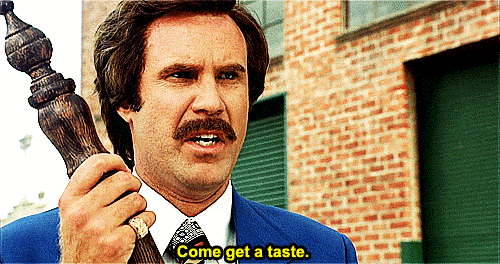 Boston College Loss: The dude will continue to abide. No worries.
PREDICTION
Arizona, 26-17. No offense to the Eagles, who have had a fine season. I think this is more about my not trusting the ACC than anything else. But when Arizona is good, it is very good.
Overall: 91-28
Postseason: 6-1